92 DAYS TO GO. They say eating chocolates can be bad for you, especially when you're trying to lose weight or maintaining a healthy diet.
But we all know that Christmas is the season when everyday is cheat day, right?
So take your cue from celebrity chocolate lovers—Shalani Soledad-Romulo, Lucy Torres-Gomez, and Dra. Vicki Belo—and give your friends a box of sweetness deluxe for the holidays.
Their common favorite is the authentic Italian artisanal chocolate from Filipino brand Villa del Conte.
The owners, the Spanish Vince Aldanese and his Filipino wife Rhoda Campos, derived the brand's name from the Italian town where the chocolates are manufactured.
CHOCOLATE CHOICES. Almost every month, Lucy Torres calls up Vince's wife, a good friend, and orders a jar of Ovetti Confettati for her home.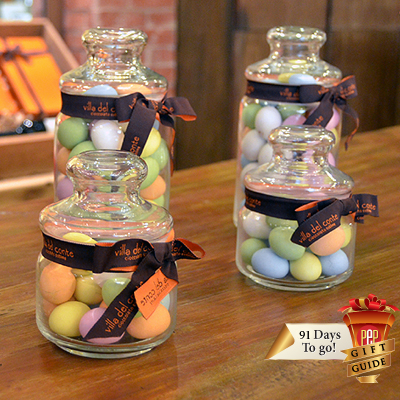 Ovetti Confetatti has three different jar sizes: piccolo (100 grams of chocolate for Php 480), medio (250 grams for Php 780), and grande (500 grams for Php 1,480) (Photo by Demai G. Sunio-Granali)
These sugar-coated dark chocolate eggs filled with hazelnut cream are visually appealing for kids because of their mixed pastel hues, and are delightful to display on the living room table or kitchen counter.


Apart from Lucy, celebrity doctor Dra. Vicki Belo is also an avid customer. Her favorite: the dark chocolate praline balls.
There are over 20 flavors of pralines and fruit-flavored chocolate sticks to choose from: dark chocolate with whisky mocca cream, dark chocolate with orange cream filling, dark chocolate with coffee filling, milk chocolate with cacao and milk chocolate with watermelon cream, to name some.
This November, Vince plans to launch the new coconut and cookies & cream flavors.
Another celebrity fan of the brand is Shalani Soledad-Romulo, who picked Vince to supply the giveaways for her January wedding last year.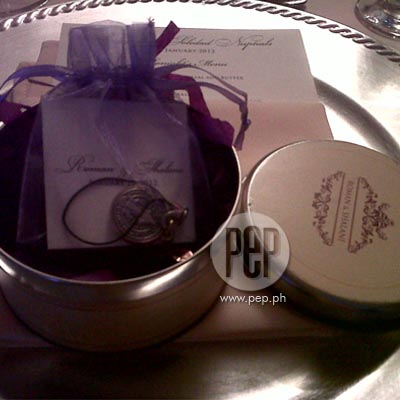 The souvenir from Shalani Soledad-Romulo's wedding in January 2012 consisted of a can of chocolates and a medallion blessed from the Vatican. (Photo by Mike Caliwara)
Shalani had a customized tin can serve as a container for the chocolates and a medallion of St. Benedict.
CHOCOLATE PACKAGES. In Villa del Conte, all chocolates are ordered by the gram, and delivered in elegant orange boxes.


Standard box sizes vary from piccolo (100 grams of chocolate for Php 480), medio (250 grams for Php 780), and grande (500 grams for Php 1,480).
Every box is automatically filled with assorted flavors, but Vince explains, "The advantage that we do is I don't allow you to just pick 'gano'n, gano'n'. Basically, it comes all mixed.
"But if you're already a Villa del Conte fan, what's great about it is you tell me what you wanna build or what flavors you only want, and I don't charge you extra. That's all you still pay."
The classic orange boxes. (Photo by Demai G, Sunio-Granali)
They are also open for customized box orders. However, Vince gives a third week of October deadline for Christmas deliveries, as it takes 21 to 28 days just to finalize and finish the packaging.
Villa del Conte has branches in Shangri-La Plaza Mall, Mandaluyong; Greenbelt 5, Makati; Resorts World Manila, Pasay; Alabang Town Center, Muntinlupa; and Robinsons Magnolia, Quezon City.
Log on to www.villadelcontecioccolato.com for other inquiries.