88 DAYS TO GO. While most of us enjoy making lists and shopping for cool gift ideas for Christmas, we sometimes tend to forget the answer to one important question: Will it be useful to the person receiving it?
It's very important for holiday shoppers to choose gifts that are not only unique and interesting, but functional as well.
If you're thinking about gift ideas for your sister or mom, why not choose undergarments that are sexy and stylish?
Bianca King shows how you can be beautiful "on the inside" with Natasha Shape intimate wear.
The direct-selling company recently launched its new Christmas fantasy collection, which women would surely love.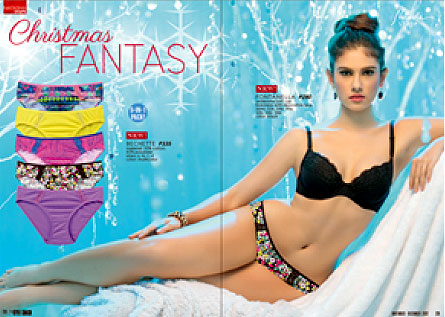 How about pairing this black Fontanella underwire lace bra with the Bechette low-rise panty, which comes in a 5-in-1 pack?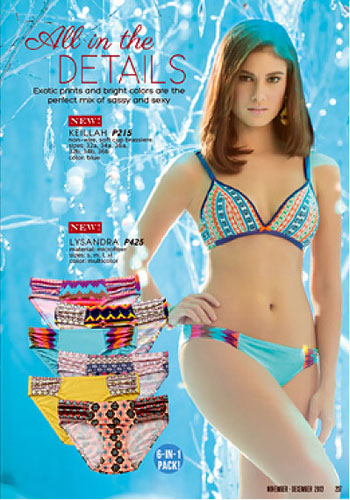 Or this colorful Keillah (Php 215) brassiere with the Lysandra (Php 425) 6-in-1 panties that are made with microfiber?
Natasha products can be ordered through your friendly neighborhood dealer or by visiting the company's website at www.natasha.ph.
SHOPPING TIP: FINDING THE RIGHT BRA SIZE. Instead of giving them a wrapped present, why not take your mom or sister out on a shopping trip instead?
Not only do you get to give them a nice gift that fits, but you also gain a priceless bonding moment you can forever cherish.
Most of the time, women make the common mistake of buying bras without finding out if it actually fits them.
Of course, there is the issue of hygiene, which keeps us from trying on unwashed undergarments at the mall, but this is what professional bra fitters are for.
Unfortunately, not all shops have one employed in their staff, so here are some pointers on how to do the fitting yourself:
1) Find your band size.
Stand in front of a mirror, then take a tape measure and run it around your rib cage just underneath your breasts.
Make sure it is snug and draws a straight horizontal line around your chest.
Keep your arms down and finally take the measurement in inches. This should be your band size.
If it turns out to be an odd number, you should try out the size above and below that number.
For example, you measured 33, you're either a 32 or 34.
2) Find your cup size.
Bend over until your torso is parallel to the floor. Measure around it, including the fullest part of your breast.
Make sure it is not too loose or too tight and the tape should form a straight vertical line. Write down the measurement.
Now, calculate your cup size by subtracting the band measurement from the cup measurement.
The difference should determine your cup size: Less than 1 inch = AA cup; 1 inch = A; 2 inches = B; 3 inches = C; 4 inches = D; 5 inches = DD; 6 inches = DDD (or E in UK sizing); 7 inches = DDDD or F; 8 inches = G/H or FF; 9 inches = I/J or G; 10 inches = J or GG.
3) Trying it on: the proper fit.
Though armed with the right band and cup measurements, the ultimate test still lies on how a bra would actually fit you, especially since sizes also vary depending on the brand.
To answer the hygiene concern, you might want to consider wearing a snug-fit—not tight-fit—tank top made of thin fabric when you go shopping.
This way, you can try on bras over the tank top and not directly onto your skin. Just don't forget to remove the bra you're wearing underneath.
A properly fitted bra has four characteristics:
One, it should have a snug-fit band that allows you to put one or two fingers underneath it.
Two, there shouldn't be any flesh coming out from the sides of the cups, beneath your armpits.
Three, the gore—the part of the bra band found between the cups—should sit flat against your chest.
And four, the top of the bossom must have a smooth curve. If you see flesh popping out of the bra, that means it's too small.
4) Consider your breast shape.
If you think you got your band and cup sizes right but the bra still appears too big or loose on the top part, you might not have the correct bra cut for your breast shape.
If you are small-busted and the flesh of your breasts spread over a wider area, you probably have a shallow shape.
Get yourself a balconette or demi-cup bra that's open on top and cut horizontally. Avoid the V-cut or plunge styles.
Pendulous or tuberous breasts—those with a relatively narrow base but the flesh hangs down—requires underwired bras with well-separated cups and fuller breast coverage. Avoid demi cups and plunge bras.