IMAGE courtesy of Vogue UK';s official website
---
British supermodel Naomi Campbell has agreed to sell a limited print of her photo taken by half-Filipino photographer John-Paul Pierre to raise funds for the victims of the typhoon Yolanda in the Philippines.
The said picture, to be printed in series and signed by Naomi, will be sold at 20 pounds each. The proceeds will go to the Red Cross disaster fund.
The collaboration between the popular African-Jamaican model and the London-based fashion photographer came about when Pietrus, stricken with grief by what he saw on the Red Cross website, decided to raise money and awareness regarding the dismal catastrophe that befell the Filipinos in the Visayas region.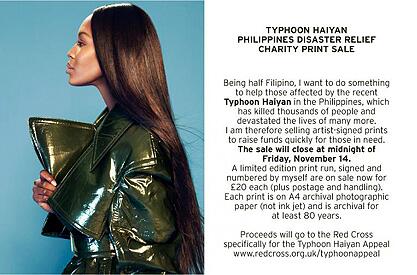 In an interview with Vogue magazine, Pietrus relayed, "I chose this photo of Naomi as I think she is a very inspirational and beautiful figure, and she looks so peaceful here—something I would like the victims to find, a peace."
"I was on the Red Cross website and thought that there must be something more that I can do than a personal donation, not only to raise money but to raise awareness.
ADVERTISEMENT - CONTINUE READING BELOW
"I immediately called Naomi to see what can be done and she suggested selling one of the images we've taken for charity."
Naomi, who founded the charity "Fashion for Relief" in 2005 for the victims of the hurricane Katrina, was described by Pietrus as "passionate" in "helping those in crisis."
Part of what moved Pietrus to take action was his Filipina aunt whose hometown was affected by the typhoon.
He told Vogue, "Fortunately most of my family has been spared any misfortune. However, my aunt's hometown was completely destroyed and flattened to the ground, and she has lost a lot of things dear to her, including friends."
To purchase a print of Naomi's photo, go to http://www.johnpaulpietrus.com/