The Pond's Beautiful Reunion, held November 12, at The Conservatory in Peninsula Hotel Manila, was a gathering meant to celebrate the cheerful spirit of Christmas.
Through the help of the Pond's Beauty Council—whose members include Charlene Gonzales-Muhlach, Tweetie de Leon-Gonzales, Cheska Garcia-Kramer, Kelly Misa-Fernandez, Rissa Mananquil-Trillo, and Hindy Weber-Tantoco—the event was poised to give women expert advice on how they can prepare for upcoming reunion parties.
Cheska gave some tips on proper skin care and how to do appropriate makeup.
Meanwhile, Hindy gave advice on what to wear and how to wear them fabulously.
Tweetie, on the other hand, was all about choosing the right food—something healthy yet delicious.
And lastly, Charlene had a few wise words about careful party planning and time management.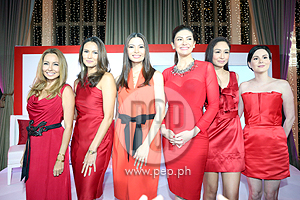 The Pond's Beauty Council (L-R) Hindy Weber-Tantoco, Tweetie de Leon-Gonzales, Rissa Mananquil-Trillo, Charlene Gonzales-Muhlach, Kelly Misa-Fernandez, and Cheska Garcia-Kramer.
But with stories coming from all over about the devastation in Visayas, which was directly hit by the recent super typhoon Yolanda, it was quite hard to feel celebratory and buoyant during the party.
Apples Aberin-Sadhwani, former model and now head of public relations for Pond's International, encapsulated the feeling in her short speech delivered at the start of the program.
She nearly broke into tears when she described how tough it was for her and her team to make the decision to push through with the event.
"I wanna be totally honest and transparent with everyone here.
"We've been working together for the past year that I've been here, and to be honest, we were quite conflicted about what was going to happen here today.
"We wanted to cancel it.
"But, you know, in retrospect, and after careful deliberation, it is precisely at these trying times that we must gather together in support and recognition of the beautiful and resilient Filipino spirit, and especially the Filipino woman.
"It is during times like these that we must draw together, drawing in people to come together for good causes.
"Beautiful reunions can and will be a force for good, and I strongly believe in this. This is one of the things that make my work worthwhile.
"Knowing that I can make a difference makes my work worthwhile."
In light of this message, Apples encouraged guests and fellow Filipinas around the world to do their part in aiding victims of the calamity.
"I stand before you and hope that as you, during the holidays, come together for your beautiful reunions, think of these things and know that unity empowers as much as it uplifts.
As for her and the Pond's Beauty Council, they will be packing at least 20,000 relief goods on Friday, November 15, in their office in Paco, Manila.