IMAGE GA Granali
---
26 DAYS TO GO. Bookworms who are constantly on the lookout for new reads will have a blast to find this next gift inside their Christmas stockings.
The Recorded History of a Girl is the first novel by former fashion editor and lifestyle columnist Celine Lopez.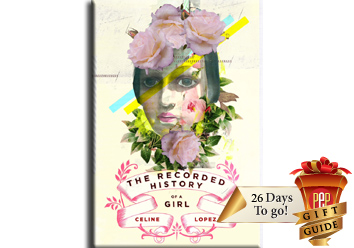 You may remember her as Manila's favorite It-girl, who always graced the hottest parties and events, as well as the pages of almost every fashion and society magazine.
These days, Celine is purely focused on making her various projects happen.
For one, she just established her own production company called 118, after being an executive producer for the Sean Ellis-directed and Sundance Festival-winning masterpiece Metro Manila.
Apart from that, she is also into designing jewelry for her co-owned brand Fah/LUX.
The self-published author proudly spoke to Tim Yap, in an interview for The Philippine Star, about her new book.
"It's all about the emotional gymkhana that happens in a girl's life from childhood all the way to her deathbed.
"As I describe it in the back cover, there's a letter for everyone in the book. It's an easy and hopefully uplifting read.
"It's not 'sassy' or cool. It actually aims to be warm and genial, with some humor on a gravy train."
The book is currently available at most National Book Store branches.
The e-book edition is also available for download on amazon.com.