IMAGE Nerisa Almo
---
25 DAYS TO GO. Traveling and commuting is obviously a tiring task that can take a toll on a girl's style.
But girls on the go need not look haggard and harassed no matter how stressful city life can get.
Frequent traveler and stylesetter KC Concepcion has a practical gift suggestion straight from her favorite local shoe brand.
The Foldasole line from SM Parisian easily falls under the category "Fashion Must-have," and it is best for every woman who moves around and travels a lot.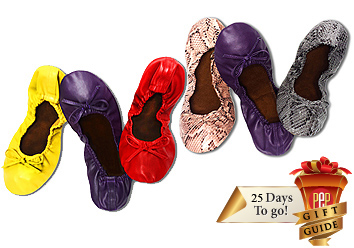 Foldasole is a collection of flat shoes that are made with soft leather materials and has a unique rubber sole design.
Unlike other footwear, this one easily rolls and folds for easy storage inside your bag.
Take it with you everyday as an emergency pair for when you hit the gym after work or when you simply want to rest your feet from wearing high heels.
These flat shoes are perfect for women who commute to work or school. They are very comfortable for walking and they don't take up too much space inside your bag.
Plus, they look really cute and feminine and can easily blend with any outfit.
A pair of Parisian Foldasole shoes sell for only P299 and are available in a variety of colors and prints.
Grab them at any SM Store branch nationwide.