Bianca Gonzalez surprised bystanders at the Bonifacio High Street on January 18, when she made an appearance at the pop up salon of hair styling brand Vidal Sassoon.
Enjoying the cool weather, the TV host took the opportunity to bring out her leather skirt and long-sleeved top, which she paired with red stilletos.
But the best part of Bianca's look is her hair, which, after cutting it short and dying it purple on one side and blue on the other last October, is back to black but styled in rocking fashion.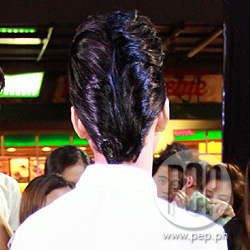 The 30-year-old TV host says her new look says a lot about what she wants for herself this 2014: "Well, aside from a new look for the new year, parang new chapter in my life... I'm older, supposed to be bolder, wiser, ganoon."