Ballerinas, besides their talent in dancing, are known for their simplistic elegance and grace.
Even off-stage or outside the studio, they maintain a certain air of sophistication about them—their clothes are always pristine, hair and makeup just the same, and even their nails are immaculate.
It is this sense of femininity that girls who don't do ballet try to emulate, and that nail care brand Caronia celebrates with its newest nail polish collection called Art of Dance.
Art of Dance features three limited edition summer colors, which are all inspired by the basic movements of ballet.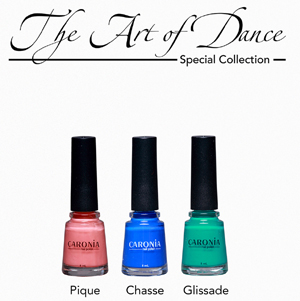 The Chasse, which has a vibrant royal blue shade, is inspired by the energetic movement of the chassé or "the chase."
The Glissade or the gliding movement, on the other hand, is represented by an emerald green hue.
Meanwhile, the Pique, which has a light salmon pink tone, very much characterizes the delicate movement of the piqué or "the prick."
BALLET PHILIPPINES. During its launch on March 12, at The Conservatory of The Peninsula Manila Hotel in Makati, Miss Universe 1973 titleholder and current Ballet Philippines president Margie Moran-Floirendo spoke about a wonderful partnership with Caronia.
"This is the very first corporate partnership that we've done in Ballet Philippines for our scholarship program.
"We are celebrating 45 years this year, which means that we are as old as the Cultural Center of the Philippines.
"We were born together with the Cultural Center, that's why we are called the CCP Dance School.
"We support a lot of scholars every year. We have about 200 scholars, throughout the year, which we support. And that doesn't even include our scholars in Fort Bonifacio, we have eight scholars in our studios in Fort Bonifacio, and we're opening another studio in SM Aura in April 1.
"The thing is, we don't just train dancers. We make sure that our dancers would take dancing as a profession.
"They go to school. They start very young and we make sure that they are well-educated. We have a scholarship partnership with the De La Salle College of Saint Benilde, and we make sure that they finish a degree in Dance, because that is what they are passionate about.
"You know, of all the arts that we know of, I believe that dancers are the ones who start very early, and they also end very early, even before they're 40. It's very rare for dancers who dance, as a profession, beyond that age.
"So, we make sure that their career doesn't end there. They can become teachers, they can open their own dance school, and they can become professionals. That's what we aim for in our program."
Caronia lends a hand to Ballet Philippines by releasing this limited edition collection, which will only be available in leading supermarkets, department stores, and health and beauty stores nationwide until January 31, 2015.
A portion of the proceeds of Art of Dance will be donated to Ballet Philippines Foundation's Noordin Jumalon Scholarship Program, which supports the dance education of over 100 students every year.
To become professional dancers, students must train with top notch teachers five to six times a week—two to three hours on school days, and up to eight hours a day during the summer.
This intense training must be sustained for eight to ten years.
However, due to rising costs, some students find it difficult to continue. The only solution is to get a scholarship that can help make their dream to be a professional ballet dancer come true.
Limited special boxes of the Art of Dance collection also contain two free tickets to see a performance from the 2014 season of the Ballet Philippines.