IMAGE Mike Caliwara
---
On March 24, a number of writers were invited to do some food tasting courtesy of the famed Todd English Food Hall, which started in New York.
It was brought here by Ricki Dee, the owner of Ebun, Mangan, Chin's Express, Inihaw Express, Cerveceria, and Kai.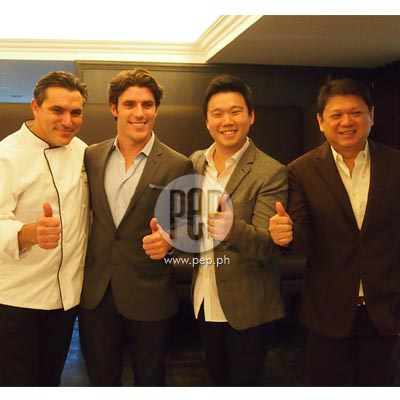 Ricki's son Eric was tasked to manage this latest venture.
When asked how did the connection with Todd English happen, Eric told PEP.ph (Philippine Entertainment Portal), "I met Todd three years ago.
"I was doing a stint in Kuala Lumpur, Malaysia, so I stayed there for four years.
"A friend of mine told me that he was gonna do a show in Kuala Lumpur. I said I wanted a chance to meet him.
"I met him, went out, had a few drinks, had fun, and then I told him, 'Hey, we're also in the resturant industry so why don't we do something?'"
Eric's family initially wanted to bring in Olives, Todd's first restaurant which opened in Charlestown, Boston, Massachussets.
After "two years of back-and-forth emails" and flying in and out of New York, Todd showed the "food hall," which had Eric exclaimed, "This is it!"
The venture, according to Eric, is "one of their biggest projects in the restaurant industry."
He didn't mention the amount of the deal, but it was "good enough price...and worth it."
Now, here are five reasons why the latest culinary sensation to hit the town is a must-try!
1. It's like dining in the Big Apple.
Yes, Eric said, with the help of interior designer Ivy Almario, the Dee family was able to transport the "feel" of the original restaurant to Manila.
He added, "Everything that you see here is a replica of the New York outfit..."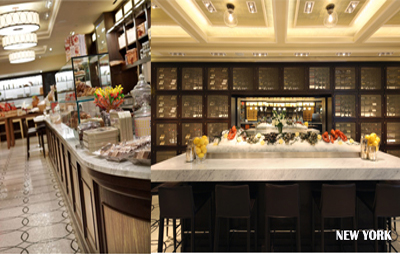 2. It's Todd English's.
The celebrity chef's name is behind several successful food ventures in the U.S., and was once included in People magazine's 50 Most Beautiful list.
ADVERTISEMENT - CONTINUE READING BELOW
This writer saw him in action during the media launch, and he was fast, precise, and intent.
Also present that day was his son Oliver, an alumnus of Cornell University.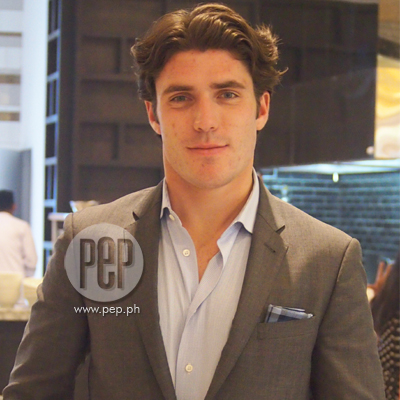 3. There's variety—pasta, pizza, and Asian stations; raw plus dessert and bread bars; The Grill; Salad and Charcutterie section.
Make sure you order Todd's flat bread pizzas. This one's chorizo and shrimp...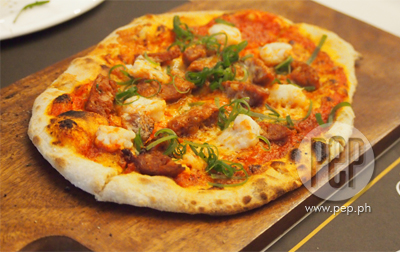 ...Tuna Tartar...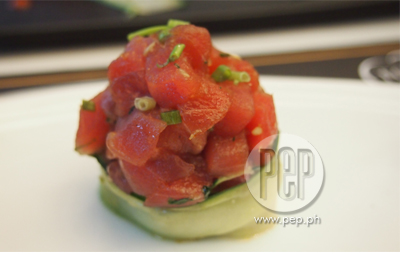 ...and some of their pasta dishes. This one's roasted pumpkin ravioli.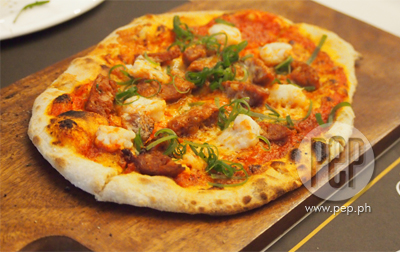 They also have a whole station serving fried rice—duck, kimchi, crab, Wagyu!
The ingredients, said Eric, are "imported from New York!"
And the taste? Don't worry, the local chefs were given the chance to work with Todd's trusted men in the kitchen: (L-R) Alfred Stephens, Jaime Mendoza, and Bobby Griffing.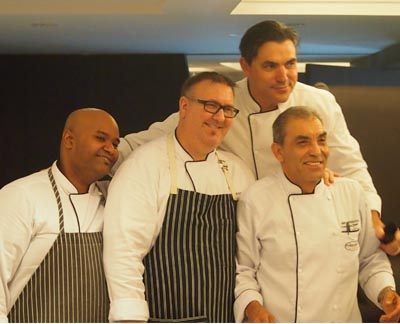 4. The cost: just right.
Don't be intimidated by the posh ambience because dishes are priced from 230 pesos up. For 500 pesos, you can already have a pizza-pasta combination.
5. Lastly, the servers were very attentive, and could properly pronouce how the dishes (even the foreign-sounding ones) are called.
Tood English Food Hall here in the Philippines is situated at the 5th Level, SkyPark, SM Aura Premier in Bonifacio Global City.