He may seem stern and angsty as Daniel Grayson in the hit US TV show Revenge, but when Hollywood actor Josh Bowman arrived in Manila on April 26, together with his girlfriend and co-star Emily Van Camp, he looked laidback in a simple T-shirt and jeans.
Josh identifies more with this casual and cool travel ensemble, which he got from Penshoppe, the Filipino fashion label that he endorses.
Yes, he belongs to the brand's exclusive roster of international endorsers, which also includes movie and TV celebrity Zac Efron, and Vampire Diaries stars Ian Somerhalder and Nina Dobrev.
Being in Hollywood, where he has access to more popular designer labels, it's surprising that Josh would entrust his style to an Asian brand.
He explains his choice: "Penshoppe has a wonderful mix of basics and classics, offered alongside key, trendy pieces that make for fashion-forward style dictations.
"I find that I generally wear what I'm more comfortable in, but if I were to be more particular with my style, I'd say it's always a combination of high-street brands and closet staples—pretty much what Penshoppe offers."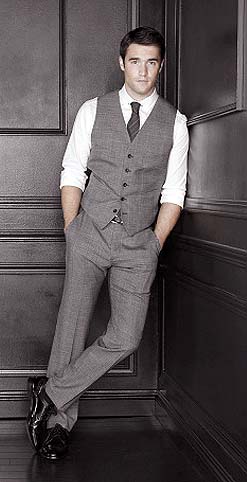 Josh Bowman as Daniel Grayson in Revenge.
Comparing to his character, Daniel, who dresses impeccably to match his decadent high-society lifestyle, Josh's personal style doesn't exactly stray too far.
He actually grew up wearing suits, collared shirts, and smart shoes like lace-ups and loafers—basically stuff he still wears today whenever he goes out for public gatherings, such as the Penshoppe Hollywood party at the 71 Gramercy in Makati on April 27.
"I personally prefer to keep it easy and simple.
"My rule is to stick to the classics or keep it old school, because that's tried-and-tested. It'll always be in fashion," he says.
He also adds that his looks have been heavily influenced by the bold look of menswear in the 1950's—an era dictated by structured jackets, fitted trousers, sweaters and knits, and all kinds of prints like checks and tartan plaid, among others.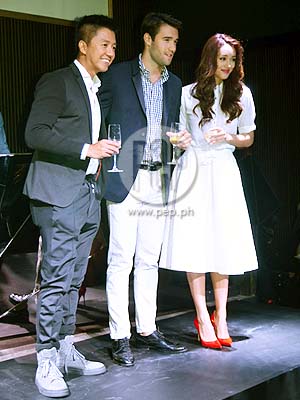 Josh Bowman (center) with Penshoppe brand director Jeff Bascon (left) and host Kim Jones (right) at the Penshoppe Hollywood party
For his day-to-day look, his signature style can be described as "nonchalant, relaxed, and comfortable."
His key fashion must-haves, he says, include jeans and a basic white or black tee.
"I wear the white for the day, and black during the night," he says.
To spice up his very simple choices, he throws in a nice watch, a leather jacket, and a good pair of shoes.
This summer, Josh could be seen wearing a lot of pique shirts in cool blue and coral; as well as easy, breezy printed button-downs worn with casual shorts in khaki and pink, and topped off with lightweight cardigans in pastel hues and grey.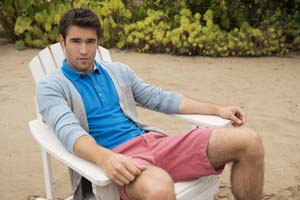 Josh Bowman wearing pieces from Penshoppe's latest summer collection.
"I love tailored looks. I like clothes that are structured to fit the body well, and Penshoppe's clothes are of this quality, without compromising on what's current and in style," he declares.
On shopping fashion, Josh has this practical tip to share with fellow guys: "I think fashion changes like the weather, so it's definitely not practical to try having everything from every new trend.
"Having my own unique style and sticking to it is also more my thing.
"I love stylish pieces that come at reasonable prices, so that it gives you more opportunities to explore different looks."
He also adds this simple styling advice: Wear what you like.
"We all have our own tastes and preferences, and these will always be changing, so don't overthink it.
"Be brave and put on what you feel looks good and feels like you.
"Everyone will always have an opinion about you, but at the end of the day, fashion is all about being true to yourself and not trying to conform to what others think you should be."