IMAGE Noel Orsal
---
Younghusband fans, and football fans in general, can look forward to a heated showdown on June 7.


On this day, James and Phil Younghusband will lead competiting teams in the Clear Dream Match 3 football challenge.
In 2012, Phil's team won. Last year, James's team lorded it. This year, to say it in Pilipino, "Magkakaalaman na."

June 7 will mark another saga in the exciting and very public professional rivalry between the most popular siblings in Philippine football.
Their rivalry on the field has mobilized football fans to campaign for their favored team online.


Last April 30 at The Hyve, the official draft started with the announcement that Phil Younghusband earned more points in the online voting, which gave him the privilege to be the first to pick a member of his team.


Phil chose Carlie de Murga as his co-captain. His brother James tapped Nate Burkey.
The draft was exciting to observe with each side jeering and cheering—the brothers leading on their fans and team members as they joked and poked fun at each other.
Previously, with the help of the Manchester United Academy, six amateurs from different parts of the country were handpicked because of their talent and clear potential.
Among midfielders, strikers, and goalies, even promising amateurs were drafted—completing a lineup that consists of familiar talent from the United Football League.
The result: a team of diverse nationalities and clear talent.
In the weeks leading up to the face-off, not only will things heat up during practices on the field, but Internet lines will be burning as fans continue to keep stoking the fire of rivalry between the two brothers.
ADVERTISEMENT - CONTINUE READING BELOW
Manchester United's midfielder Paul Scholes and striker Andy Cole are set to play in the match. But who will join which team?
That will be determined by the online voting that will continue until May 25.
The team with the highest number of points will get to take its pick between the football legends.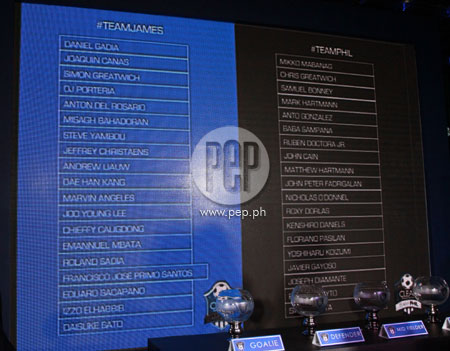 Are you for Team Phil or for Team James?
So on June 7, James and Phil Younghusband will make history at the University of Makati stadium as each plays against the other for the final win of the Clear Dream Match challenge.