Coming from a long line of talented actors, it's no surprise Adrianna Gabrielle "Ellie" Eigenmann is a bundle of talent and fun.
Standing out from normal two-year-old toddlers, Ellie catches everyone's attention as she sings "Let It Go" from the Disney movie, Frozen.
She lets out a peal of laughter, and everybody is enchanted.
Ellie is not afraid of crowds.
At her young age, she knows how to make people laugh and revels in it. Her playful demeanor is matched with wit surprising for her age.
"She's a comedian," says Ellie's celebrity mom Andi Eigenmann.
"At two, you can see how smart she is because of her wit. She's just funny and she knows it. That's how I know how intelligent she is, because she knows how to make other people laugh, how to make people happy—that's what she wants all the time."
However, Andi says that her daughter is just like any other two-year-old kid.
She loves to play with her mom's collection of basketballs.
Also, according to Andi, she is never shy to make friends in their village park or to play with her older cousins.
At two, Ellie already demonstrates the same independent and fun-loving vibe her mom is known for. She can brush her teeth on her own, and doesn't let anyone feed her.
"At two years old, she doesn't need to be fed anymore. She can feed herself. She doesn't like other people feeding her," says Andi.
And oh, she's a fashionista!
She already picks out her own clothes, opting to pair prints and bright colors.
She loves to dress up and take #selfies, which are posted on her mom's Instagram account and blog posts.
"I know Ellie likes to wears things that are comfortable but at the same time fun. Nothing boring.
"Still, she wants something comfy but she'll pick the most colorful one."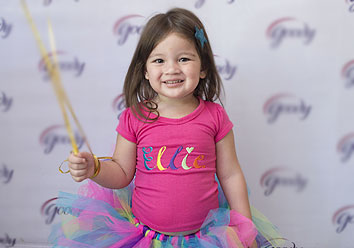 SOFTIES FOR CUTIES. Ellie is opinionated in what she wears, choosing to wear girly dresses one day and rocking sneakers the next.
She prefers to wear her hair down and accessorizes with clips instead of keeping her hair up.
So, the celebrity mom couldn't be more excited for Ellie when her daughter has been chosen to be the newest Goody Girl.
Being a young fashionista mom, Andi indulges Ellie's love for fashion.
She relates, "Siyempre ako, fashionista mom. Gusto ko lahat ng gamit ni Ellie, I know it's not gonna hurt her hair or her scalp but at the same time, the products are so cute, bagay sa mga outfits.
"So I guess wala pa ata siyang one, Goody clips na siya."
Finding the right balance between comfort and style is definitely important for this mom-and-daughter duo.