IMAGE Troi Santos
---
Summer camp counselor Alexa Kirby was crowned as the first-ever Miss Philippines Quest USA winner during the ceremony held in New York last July 12.


The 18-year-old contestant, who stands five feet eight inches tall, was also declared Best in Evening Gown during the pageant.


Also crowned that night were First Princess, Best in Talent, and Best in Swimsuit Misook Mendonca; Second Princess Isabella Estella; Third Princess Jenica Balmes; and Fourth Princess and People's Choice Award Recipient Erin Manansala.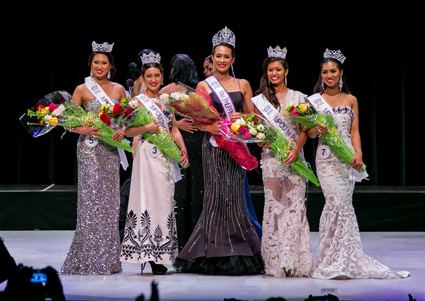 (L-R) Jenica Balmes, 3rd Princess; Isabella Estella, 2nd Princess; Alexa Kirby, 2014 Miss Philippines Quest USA; Misook Mendonca, 1st Princess; and Erin Manansala, 4th Princess (Photo by Rex Romero)



Alexa Kirby will represent the Filipino-American community in the 2014 Miss World Philippines pageant to be held in Manila on September 7.


She won a round-trip ticket to the Philippines and an allowance of $1000. She will also don an evening gown from the One.10 Collection at the Miss World Philippines competition.


During the Q&A segment, Kirby named young American actress-singer Demi Lovato, who has been vocal about her personal struggles, as one of her women heroes.
ADVERTISEMENT - CONTINUE READING BELOW
"She [Lovato] was able to overcome self-harm problems and is trying to help other people with similar problems to overcome it as well."


Kirby, who recently graduated from Downington West High School in Pennsylvania, is a summer camp counselor at ACAC.


She is not new to beauty pageants having joined Miss Teen Pennsylvania USA and Miss Teen Philippines in the past.


In 2011, she was a dance scholar at Touch of Class Dance Studio in Pennsylvania. She also received community service awards twice from Kohls' Cares for Kids, a volunteer program that supports children's heath and education.


Miss World Philippines National Director Cory Quirino served as Chair of the Board of Judges during the coronation ceremony.


Izza Dungca, creative director for the pageant said, "For the first time ever in the East Coast, a beauty pageant this grand was staged.
"I'm proud of the achievements of the candidates. Their hard work and dedication paid off.
ADVERTISEMENT - CONTINUE READING BELOW
"It was an evening of surprises and I'm overwhelmed with the positive feedback from the Fil-Am community."


"I'd like to thank Ms. Cory Quirino for inspiring me to do this pageant, and most especially for gracing our coronation night.
"My love and best wishes to Alexa Kirby as she competes for the Miss World Philippines title in Manila this September.
Added Grace Labaguis, Synergy Production and Marketing Inc. marketing director, "Congratulations and bring home the crown for the Fil-Am community in the East Coast!"


For her part, Quirino said: "I'm very proud of these beautiful Filipinas that will ably represent the Fil-Am community in the Miss World Philippines pageant on September 7.
"Starting next year, we're going to widen our search to include the West Coast, Canada, Europe, and Australia."

Former beauty queen-turned-recording artist Bessie Badilla
hosted the Miss Philippines Quest USA together with Beth Tamayo and Ian Medrano.


Joining Quirino at the judges' table were Lana Asanin, Cora Reyes, Chantel Martinez, Brent Chua, Nicole Ponseca, and Dmitry Brylev.
ADVERTISEMENT - CONTINUE READING BELOW