Italian brand Tod's hosted a press preview of its fall/winter 2014- 2015 collection on July 31, at the Fairmont Hotel in Makati city.
The ready-to-wear line for women is Alessandra Facchinetti's second season as House designer.
Dubbed the "Italian Set," Facchinetti explores the graphic, feminine possibilities of leather for clothing, working it to a high, waxy shine, almost as though it were lacquered.
On other occasions, as when accentuating the pleats of a skirt, it can look as glossy as silk duchesse satin.
The aesthetic is based on a combination of leather with jacquard, wool, mink or cashmere to create a timeless, luxurious, sophisticated style.
As with all things Tod's, there is a merging of past and future, which in this case results in a wardrobe for a modern urban existence.
Perhaps most significantly, Facchinetti's vision for the brand showcases how Made in Italy possesses a contemporary spirit, as well as being rooted in heritage and artisanal skill.
Forms are casual, with lowered pockets and soft proportions, even in the constructed garments.
A military theme also runs throughout, evident in the Montgomery duffle coats, capes, trench coats, half-belted cabans and uniform-style leather skirt.
But the effect is decidedly elegant, rather than utilitarian.
Meanwhile, the Tod's collection for men this season sees the spirit of Made in Italy, so central to the philosophy of the House, expressed through a fusion of artisanal heritage and new technology.
This is a collection for a modern gentleman—a man on the move who needs a wardrobe that is stylish and functional.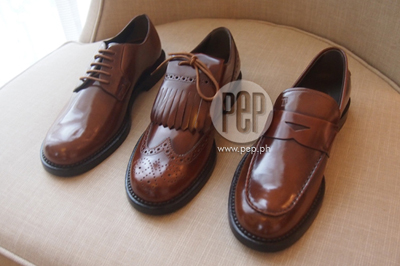 The look is one of timeless style; however, the appeal is not only a matter of appearance, but also of feel and touch. The clothing in the collection reflects the Tod's tradition of quality, elegance and refined modernity.
The Tod's customer values good taste and tradition, but his attitude is thoroughly contemporary.
JOE'S JEANS. At the SM Mega Fashion Hall, three big fashion icons launch the sought-after jeans brand in Los Angeles, California through a Private Sale Party.
Ingrid Chua Go, Mikaela Martinez, and Princess Violago serve as hosts.
Photo Caption: Ingrid Chua-Go (fourth from left) and Frank Briones (middle, in whit) with Elite Manila Models.
Joe's is an L.A.-based casual chic lifestyle brand known for modernized, timeless styles from premium denim and collection pieces to contemporary accessories and footwear.
With over a decade of influence in the fashion industry, Joe's has remained true to its DNA, embracing fashion innovation in the creation of a fully-faceted line for men and women.
"Joe's Jeans wants to feature an image of strong-minded and independent people, like Ingrid Chua Go, Mikaela Martinez and Princess Violago who live for passion and follow their hearts. I believe they are the depiction of a perfect day at Joe's Jeans Boutique," says Mika Raymundo, brand manager.