We no longer get surprised whenever we hear that a love-team—especially a perennial tandem—eventually develop a "reel relationship" to real-life relationship.
But while this may boost the team-up's career by amassing increased support from their followers and fans, a relationship that bloomed from the set could spell possible threats to their careers and relationship.
For instance, we have witnessed the extremely popular team up of Kim Chiu and Gerald Anderson blossomed into a real romance, but eventually went down the drain.
Their onscreen partnership has turned complicated when they got personally involved with each other and eventually decided to part ways that left them hurt and their fans divided.
It seems like for a love-team, mixing work and love is a deadly combination.
That is probably why James Reid and Nadine Lustre—whose love-team is now popularly known as JaDine—have resolved not to cross beyond being onscreen partners and friends.
They agree in saying that their individual career is their top priority, notwithstanding the fact that they are currently one of the top onscreen love-teams.
HE SAYS, SHE SAYS. James said that his last relationship has been more than a year ago, and he was the one who initiated the breakup to focus on his showbiz career.
"I really wanna take this seriously this time," he explained, referring to his very promising showbiz career.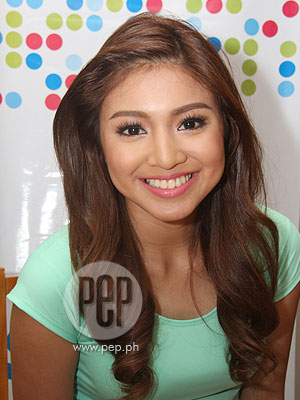 "He's focused on his career talaga. He really wants this. He's not gonna do anything to ruin his career."
At least they know each other that well.
The actress also enumerated other reasons why taking her "partnership" with James to a deeper level is not a good idea for now.
"For me kasi, right now what we have, mahirap siyang abutin..." she said.
Nadine stressed that being in a relationship with James might put their careers, their team-up, and their friendship on the line.
"What if for example mag-away kami or something... maaapektuhan [ang work].
"Tsaka I don't want to ruin my friendship with him and what I have with him," Nadine related.
"I don't want it to change kasi I'm really happy with whatever is going on with us."
PEP asked further how could she know this for a fact. She replied, "Based on other people, kasi syempre if you're in a relationship tapos mag-aaway kayo, konting ganyan lang, nasisira yung connection n'yo. So what more kung magkatrabaho pa kayo and you have to act sweet and all that, tapos magkaaway kayo? Ang hirap!"
Is she contented with the level of her "relationship" with James at this point of their careers?
"Yeah, kasi it's working," she said without batting an eyelash. "Whatever we're doing, it's working and it's fine and I want it to stay like that."