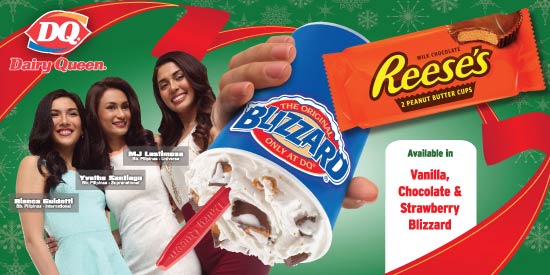 ---
ADVERTORIAL
Christmas songs playing everywhere, long queue during sale, and malls turning red and green only mean that the most wonderful time of the year is here.
To make this much-anticipated season even more exciting, Dairy Queen is treating everyone with an early Christmas treat with the newest Blizzard of the Month, the DQ Reese's Blizzard.
Delight yourself with two great tastes in a cup— imported Reese's chocolate and Dairy Queen blizzard. It's milk chocolate cup confection made of chocolate-coated peanut butter and Dairy Queen Blizzard.
The Philippines will be the first to try this exciting new Blizzard in Southeast Asia, made affordable in a mini cup for only P59.
As an early gift to those purchasing medium and large cups, customers will get an extra chocolate treat from Reese's for FREE.
It's also the season for family gatherings and reunions with barkada. Surprise them with Reese's ice cream cake from Dairy Queen.
This is also a perfect time for what most Filipinos love to do, picture taking.
Have a DQ treat—a selfie with Dairy Queen's first ever endorsers Bb. Pilipinas Supranational 2014 Yvethe Santiago, Bb. Pilipinas International Bianca Guidotti and Bb. Pilipinas Universe 2014 MJ Lastimosa.
For more Christmas treats, join the DQ Reese's Blizzard Selfie Fan of the Day with Dairy Queen PH Facebook Selfie Contest.
For more information, visit www.dairyqueen.com.ph or like Dairy Queen Philippines Official Facebook page.
SHARE THIS STORY Dairy Queen introduces new Blizzard for Christmas" data-url="https://www.pep.ph/lifestyle/29888/dairy-queen-introduces-new-blizzard-for-christmas" data-desc="Dairy Queen's newest and first in Southeast Asia: DQ Reese's Blizzard" data-image="https://contents.pep.ph/images2/writeups/bfaab6b3e.jpg"> Dairy Queen introduces new Blizzard for Christmas" data-url="https://www.pep.ph/lifestyle/29888/dairy-queen-introduces-new-blizzard-for-christmas" data-desc="Dairy Queen's newest and first in Southeast Asia: DQ Reese's Blizzard" data-image="https://contents.pep.ph/images2/writeups/bfaab6b3e.jpg"> Dairy Queen introduces new Blizzard for Christmas" data-url="https://www.pep.ph/lifestyle/29888/dairy-queen-introduces-new-blizzard-for-christmas" data-desc="Dairy Queen's newest and first in Southeast Asia: DQ Reese's Blizzard" data-image="https://contents.pep.ph/images2/writeups/bfaab6b3e.jpg">
SHARE THIS STORY
Dairy Queen introduces new Blizzard for Christmas" data-url="https://www.pep.ph/lifestyle/29888/dairy-queen-introduces-new-blizzard-for-christmas" data-desc="Dairy Queen's newest and first in Southeast Asia: DQ Reese's Blizzard" data-image="https://contents.pep.ph/images2/writeups/bfaab6b3e.jpg"> Dairy Queen introduces new Blizzard for Christmas" data-url="https://www.pep.ph/lifestyle/29888/dairy-queen-introduces-new-blizzard-for-christmas" data-desc="Dairy Queen's newest and first in Southeast Asia: DQ Reese's Blizzard" data-image="https://contents.pep.ph/images2/writeups/bfaab6b3e.jpg"> Dairy Queen introduces new Blizzard for Christmas" data-url="https://www.pep.ph/lifestyle/29888/dairy-queen-introduces-new-blizzard-for-christmas" data-desc="Dairy Queen's newest and first in Southeast Asia: DQ Reese's Blizzard" data-image="https://contents.pep.ph/images2/writeups/bfaab6b3e.jpg"> Dairy Queen introduces new Blizzard for Christmas" data-url="https://www.pep.ph/lifestyle/29888/dairy-queen-introduces-new-blizzard-for-christmas" data-desc="Dairy Queen's newest and first in Southeast Asia: DQ Reese's Blizzard" data-image="https://contents.pep.ph/images2/writeups/bfaab6b3e.jpg">