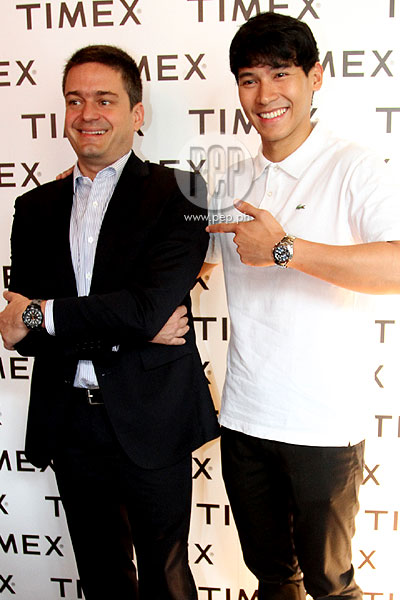 IMAGE Noel Orsal
---
As part of its 160th year celebration in the watchmaking industry, Timex comes full circle this year by launching the Waterbury Collection, its 2014 Fall Winter collection.
Waterbury, Connecticut is where the watch brand started in 1854.
"Fall Winter Collection-Waterbury, which we are launching today, relates to the birthplace of the brand in Waterbury, Connecticut. It's about an hour-and-a-half [drive] outside of New York City, where the brand was born 160 years ago," said Guglielmo Bertani, Timex Vice President for Asia Markets, in a speech at a press conference on November 6, at the Cav Wine Shop and Café in Bonifacio Global City, Taguig.
"Timex started making watches before the light bulb was invented, before the telephone existed. It's really striking to think that people in the company were already in this industry back then," Bertani added.
Since then, it has continuously evolved to keep up with the times.
Bernati pointed out, "The first product back in 1854 was a watch with a brass movement, that was a unique innovation at that time and was very reliable.
"Then we did pocket watches. Then we did the wrist watches... we were the first to be given a license agreement by Walt Disney to make the Mickey Mouse watch back in the 1930s.
Timex was the first watch brand given a license to make the Mickey Mouse watch back in the 1930s.
"It's a brand which has a long history and introduced so many innovations.
"That is why Timex is so strong and relevant and has a strong history in the world and in the Philippines," he said.
ADVERTISEMENT - CONTINUE READING BELOW
The watch brand continues to come up with new designs.
"Today, when you talk about Timex, you talk about Indiglo which is quite unique to us. You talk about One GPS sports performance watches," Bertani said.
Indiglo's main feature is the night-light technology, while the Ironman One GPS produced digital watches in the '80s.
Through the years Tmex has made a reputation for itself as an authentic American watch brand.
"When you talk about watches, it's the brand that American consumers remember 99 percent of the time. It's the brand they are wearing or have worn at some time in their lives," Bertani said.
Being an international brand, its reputation is well-known in Asian.
Bertani added that the watch brand has a world-class manufacturing station in the country.
"Our watches are actually produced in the Philippines in a world-class manufacturing facility, which is fully owned by the company, where we actually design, produce, and assemble the timepieces," he said.