Heart Evangelista turned 29 this year and has changed from a sheltered young lady to a woman who has come into her own.
One of the highlights in her life is her engagement to Senator Francis "Chiz" Escudero, who she will wed in February15, 2015.
Although Heart's parents expressed their disapproval of the relationship, the headstrong actress is certain that Chiz is the right man for her.
"I know they said you shouldn't regret things," she told YES! in its April 2014 issue.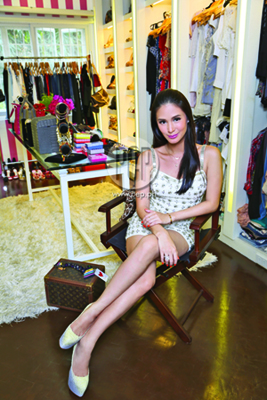 "But really, if I knew the things that I know now, there are so many things I wouldn't have done. There are certain guys I wish I didn't date, if I knew that Chiz was coming into my life. I would have probably just waited…"
Heart has blossomed into a mature woman. She lists the ways she has changed for the better since falling in love with Chiz.
1. She has moved into a new house.
Heart was living in a Makati condo unit in the same building as her parents. She was taken care of all the time.
Her former residence, a Victorian-inspired unit, is a lot less lively and cozy than her new home in a three-story townhouse in Quezon City.
Heart was very hands-on with the decorations, making sure she has space for her activities: painting, studying, and working out.
"May mga binaklas, and talagang inayos siya, pati 'yong mga floor, lahat. But it's sulit for me, kasi matagal din naman ako titira dito, e. I mean, I'll stay here till I get married, and it's still a while."
2. She is more mature and has a calm aura.
"Pag napapanood ko ang sarili ko dati, gusto kong kumuha ng something at ibato sa TV! Kasi naartehan ako sa sarili ko," she says.
"I really did mature in time—with the things I've been through. I really learned a lot. Siguro, better ang disposition ko ngayon," she says. "I'm calm, but I'm still fun. Pero it's just hindi lang ako masyadong aligaga."
3. She does things on her own.
Since Heart is the "bunso" of the family, she was used to having people cater to her needs. "I was never in charge of anything," she admits.
Her parents were always around and she was taken care of in so many ways. For example, she always had food in her refrigerator, mostly from her family's chain of Filipino restaurants, Barrio Fiesta. "Iniinit na lang. Ready na siya buong week—adobo, kare-kare…"
Now that she's living on her own, Heart has learned to take charge and do things herself. "May malapit na palengke dito," she says. "Sasabihin ng yaya ko, 'Kailangan natin ng bigas,' ganyan, ganyan. So, alam ko na 'yon ngayon."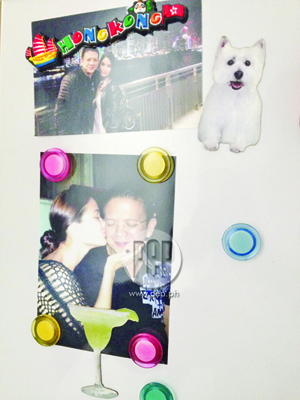 4. She has learned to manage her finances.
"My mom would give me a blank withdrawal slip to transfer money from this to that, and she would tell me that since I'm busy I should just sign it and she'd fill it up later. I just signed blank checks. I just signed, and everything was done for me. That's how it was before."
Since she grew up pampered, she relied on other people to do things for her, something Chiz did not tolerate.
She recalls telling her boyfriend: "Can you just do it for me? Can you just help me? Like, slowly turn it over to me, ganyan? I have to think about how to pay taxes, ganyan. It's just too much for me!"
Chiz taught her how to be more independent. He wanted her to learn to live on her own. "'You know, you have to do it,'" Heart remembers Chiz telling her. "'You have to learn. When are you going to learn?'"
Heart adds that Chiz later confessed that he himself had a hard time teaching Heart to be independent. "Nahirapan siya, kasi naawa siya sa akin. Alam niya na na-culture shock ako. But he has his gentle ways."
In the end, they reached a compromise. The couple went to a bank and asked a bank officer to explain options to Heart. "Meron akong notebook!" she gushes. "Learn learn ako, gano'n. "Chiz is really such a gentle person with me. I'm very proud of myself. So, now I feel more confident in that area."
5. Heart is determined to finish school.
Heart proved it's never too late to get an education. "I just finished high school," she says. "Kasi my mom said that I didn't finish high school, so I made it a point to graduate."
Chiz helped Heart find a tutor who gave her "intense tutoring" three hours every day to help prepare the actress for the Philippine Educational Placement Test (PEPT).
"The test wasn't hard, but I needed a tutor kasi medyo na-rusty 'yong brain ko," Heart confesses.
"Talagang na-realize ko it's been a while since I really focused on my education. But it was a good feeling. At least now, any time I'm ready, I'm gonna go back to school. I'm going to college."
Heart has many interests ranging from veterinary medicine to art. She has yet to choose which road to take.
Heart says she has achieved a lot of her goals since meeting Chiz, proving wrong the belief that falling deeply in love will do more harm than good.
VIEW PHOTOS: Heart Evangelista and her cozy home in QC
Read the original article in YES! April 2014 issue. To download the digital copy, visit Summit Newsstand HERE.