The Christmas season is the best reason for bonding with your family and reconnecting with friends.
If you're looking for places to hang out with them and relax from the season's hustle and bustle and the horrendous city traffic, why not check out these chill-out spots and bazaars around the metro?
For foodies, the Greenfield District with its lawns of green grass is a good place for a nice walk or if you just want to take a breather and relax.
Located in the heart of Mandaluyong Central Business District, it's easily accessible whether you're from the North or South of the metro. The vicinity is also filled with undiscovered restaurants you must try.
1. Habib Persian Cuisine
If you're craving for some Persian food like kebabs and shawarma, this place gives you an authentic taste of Persia.

Ishi Chelo Kebab and Habib Beef Chicken Roll




2. Brown's Gourmet Cafe and Brazil! Brazil!

For home-cooked comfort food that's budget friendly, Brown's Gourmet Café's is a place to try. If your palate craves for something slightly more exotic, check out Brazil! Brazil!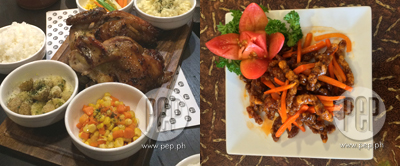 Sirloin Crispy Beef from Brazil! Brazil! and Roasted Chicken from Brown's Soy-based ramen




4. Blackwood

Want to explore a new local drinking spot with a relaxing yet urban feel? Blackwood is a New York-inspired gastropub which sells premium draft beer and New York-style deli, a great way to cap a long work day with your friends.

The crabs with buffalo chicken sauce and homemade corned beef sandwich with fries are bestsellers.

5. Le Miel Café
Le Miel, which means "honey" in French, is a fusion of French pâtisserie and Korean-inspired desserts.
Try out their Gluten-free Belgian chocolate cake or red velvet cake with cream cheese paired with artfully made latte.

Now, for some Christmas shopping, the brightly lit Greenbelt 5 is a sure treat.
This year, Greenbelt is holding a silent auction aiming to raise funds for organizations such as Habitat for Humanity's ReBuild Bohol Program, Sto. Nino de Paz's Little Sisters of the Poor, and Ayala Foundation's Sibaltan Women of El Nido.
The silent auction offers the most creative way to procure unique finds without burning your pockets.
The goods on the block range from local art and crafts, high-end items such as a Gucci bag and Onitsuka Tiger sneakers.
In this season of giving, make your shopping count, drop by the Fashion Walk and make your bid on the items before December 30.