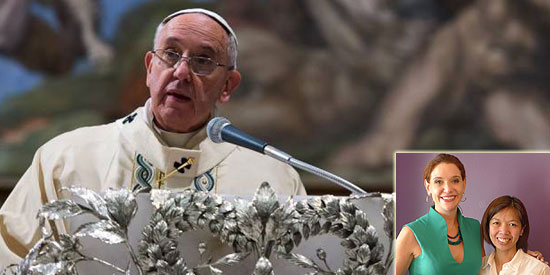 IMAGE Photo from Facebook
---
In articles about Jorge Mario Bergoglio, also known as Pope Francis, posted on different sites, you will read that a lot of them hail him as a "rock star."
For instance, in an article published on Telegraph.co.uk, Cardinal Timothy Dolan, Archbishop of New York, called the Pope a "rock star" for being a man of his own and a maverick.
But in the opinion of master transformation coach Cherry Pua-Africa, Pope Francis is more of a "people's champion" than a "rock star."
Africa has studied "How to Fascinate," a profiling instrument that determines the personality of a person in order so that he can use his most prominent strengths to his advantage.
The profiling instrument was discovered by Sally Hogshead, a New York Times best-selling author and a branding expert.
Hogshead's discovery aims to enable a person to be at his best in the eyes of the society.
ADVERTISEMENT - CONTINUE READING BELOW
It does this by measuring how people perceive a certain person's communication style, whether this is invaluable to others or not.
PEOPLE'S CHAMP. Based on what she has studied, Africa said, "I think Pope Francis is more of people's champion, which is a combination of passion and power.
"Ang primary advantage niya is passion and then secondary niya is power.
"And when merged together, it's the people's champion, the darling of the globe.
"He is the people's champion because he communicates with passion.
"He connects with emotions. He goes beyond and transcends dogma."
Africa expounded on the persona of Pope Francis in an interview with PEP.ph (Philippine Entertainment Portal) and other press members last Monday, January 12.
The life coach cited the out-of-the-box mentality of the current Pope in connection with the long-held views of the Catholic church.
The Pope has endeared himself to a wide public when he reportedly said that gay marriage should be studied and not be dismissed out-of-hand. He pled the ChurchHhe washed and kissed the feet of several Muslim women.
ADVERTISEMENT - CONTINUE READING BELOW
And Pope Francis is definitely with it and knows how the reach the people in the ways they know how. Instead of sermons and lectures, he is active in social media and makes himself available for selfies with people he comes in close contact.
HUMBLE BUT CHOSEN. Africa observed that while the Pope holds the highest office in the Catholic Church, "he derives his power from humility."
More importantly, Pope Francis understands the need for change, Africa stressed.
"We have to keep up with the time, and you cannot imagine the Pope take a selfie, with the young kids," she elaborated.
She said that the Pope perfectly understands the medium of the young generation and he makes use of that medium to reach out to them.
"And that's a selfie and he knows that. He's playing to that advantage.
"He's relevant because of his personality and because he knows how to use that personality to leverage with the modern time's needs."
ADVERTISEMENT - CONTINUE READING BELOW
Africa added, "At the end of the day, he has a very high popularity rating, 88 percent of American Catholics believe he's doing a good job," referring to the approval rating of the Pope in a national survey conducted in Florida, USA.
"So he's doing a good keep as how the world sees [him]."
"I think he's more of a people's champ kasi if you think about it hindi naman siya nag-innovate ng new things.
"He's just changing the way he communicates, changing the way you look at it.
"[It's] more on the point of view of you know a lot of power in him and he communicates with authority."
GET FASCINATED. Africa clarified that the Pope did not go through the profile testing that she is talking about but, "We, as fascinating trainers, we know the profiles so well that we could actually profile [someone].
ADVERTISEMENT - CONTINUE READING BELOW
"If he [Pope] took the test, chances he will be in this matrix [people's champ] because it's how the world sees him.
"Based on how he is showing and the impression that he is leaving us, there's a lot of research that goes with it."
As a matter of fact, Africa said that the Sally Hogshead the inventor of the profiling system, "was able to profile even the dead people."
Africa continued, "It's based on research on how you see the Pope and popularity rating case."
However, it's a different case for ordinary people. "For you and me we go through the profiling test because we're not public figures."
Africa explained, "You are asked a series of 28 questions and it gets processed through and algorithm and from there, you are actually profiled into 49 different archetypes, based on your primary advantage and secondary advantage.
"It tells you to be who you are and be the best of who you are.
ADVERTISEMENT - CONTINUE READING BELOW
"You shouldn't be a different person. That is your brand your character and you should then keep on doing that we enforce in that particular difference, than trying to be somebody else. That's the science behind fascination."
To get in touch with Cherry Pua-Africa, you can visit Cherry's website or this LINK.