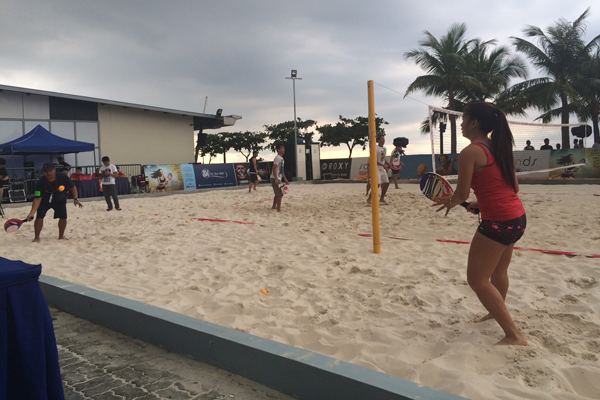 ---
The holidays may have caused a lot of damage to your waistline, so here's something you can do to shake off the extra poundage.
A new sport called beach tennis recently drew the Metro Manila crowd for three consecutive Sundays last December to SM Sands By The Bay at the SM Mall of Asia complex.
The event was organized by CDL Entertainment Productions, whose president is the actress Lotlot de Leon, in partnership with Fady Sports and SM Sands By The Bay.
RULES. Beach tennis, as explained by Kiko Diaz, an avid tennis player and a professor at the UP Diliman College of Human Kinetics, is basically a mash-up of tennis and beach volleyball. He is also the coach of a women's softball team.
Coach Kiko said, "Since we're playing on the beach, the ball doesn't have to bounce. It shouldn't bounce.
''It should be kept in the air, it's all volley play, similar to volleyball.
"The court is in the dimension of a beach volleyball court as well.
''The scoring is very similar to regular tennis, 1-6, but the difference is, there are five points to win a game.
''There's no advantage play during a deuce or 40 all.
"It becomes sudden death, it's all or nothing. Best out of three sets to win."
And since the court is similar to a beach volleyball court, expect to play barefooted and get a lot of sand between your toes.
HISTORY. Fred El Soury, founder of Fady Sports, shared, "I was looking to actually play the game here in the Philippines but I couldn't find the materials, the product."
ADVERTISEMENT - CONTINUE READING BELOW
The Lebanese-born Fred is also the business partner and boyfriend of Lotlot.
Together with a common friend, they started playing beach tennis in various beach resorts in Batangas earlier in 2014.
According to Coach Kiko, apart from Fred and Lotlot, the avid players of the sport are the actress Yayo Aguila, her daughter Pat Martinez [who joined ABS-CBN's Biggest Loser], Maimai Davao, Ian de Leon, Matet de Leon and their immediate families, including Lotlot's daughter and Kapuso actress Janine Gutierrez.
Fred said that he wanted beach tennis to be played on a wider scale.
He remarked, "We encourage the Filipinos to play this game...
"You have the longest coast line in Asia and you don't have that game, I was really amazed!
"Most of the time, this country is like a very big beach resort.
"This is a fun game to play at the beach."
BIG SUPPORT. Marian Capadocia, the number one teen female tennis player in the country today, was one of the participants in the beach tennis event.
She enthused, after a one-on-one round Coach Diaz, "It was really fun and I think it's a good sport.
"And I can use it for my volley sa tennis. It was really good to volley."
Marian also recommended the sport to teenagers, ''I think they have to try it first, but for sure, they're gonna love it."
INT'L. COMPETITIONS. The game evolved to a professional level in 2006 when the United States started making the rules and regulations in partnership with the International Tennis Foundation (ITF).
ADVERTISEMENT - CONTINUE READING BELOW
Today, there are two federations controlling beach tennis, one of which is the International Federation of Beach Tennis or IFBT.
Fred said he is looking for support from IFBT so that beach tennis may be included in the 2016 summer Olympics, "Sana by that time we will have a Filipino competing."
Coach Kiko volunteered that beach tennis "can be played by mixed level of skills – beginners, mediocre, skillful."
While the official play format is mostly doubles (mixed, male or female), Coach Kiko said they make exceptions.
He explained, "In our clinics, we tweak the rules and sometimes play 3-on-3, 4-on-4 just to make everyone more familiar with how to play the game.
''We're hoping that by the first quarter of 2015, we'll really have a regular set of players."
ENCOURAGING YOUNGSTERS. His hope is that the partnership with SM Sands By The Bay, along with CDL and Fady Sports, will continue.
The court set-up created by SM Mall of Asia is perfect for what beach tennis enthusiasts need and it's right in the heart of Metro Manila.
According to Coach Kiko, their group is also targeting this summer season as an opportunity to create more interest in beach tennis. In fact, they have received invitations to bring beach tennis to Boracay.
He concluded, "Initially, we want it for all ages really, but for the more competitive ones, we're looking at the high school, college level kids to play the game.
''The dream really is, one day in the future, beach tennis to be played as a regular sport either in the UAAP or NCAA."
ADVERTISEMENT - CONTINUE READING BELOW