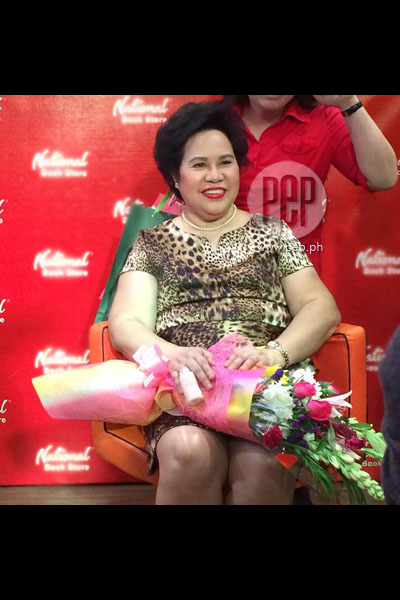 IMAGE Bianca Geli
---
Senator Miriam Defensor Santiago's book, Stupid Is Forever, recently topped National Book Store's best-seller list.
In a "meet and greet" last January 22 at National Book Store's Glorietta branch in Makati City, Sen. Santiago explained why her simple, feel-good book has become a hit.
Sen. Miriam said she is very much aware of the stir her book has made.
"If you go on Facebook, you'll see that many of our balikbayan relatives and family in America want their relatives here in Manila to send the book to them.
"So, we have to analyze why is there such a hunger among the masses.
"And not even the masses, the students, actually.
"Why is there such a hunger for old-fashioned humor?
"Humor that does not hate, is not satirical, is just raising points for fun's sake."
SENATE PROBE. She then segued to the Congressional investigation of the alleged corruption among political leaders.
She said, "It could be an indication that the public is weighed down by anxieties of the investigations being conducted in both the House of Congress and Senate.
"I think there's this feeling of being dragged down by reports of wrong-doing in our government.
"They want to see a brighter side of the Filipino. That could explain why this book is so popular," she said.
CLOSE TO THE YOUTH. Sen. Santiago also said she knows how to relate to the youth. This is why most of her readers are students.
"Dahil ang katangian na ipinapakita ko ay mga katangian na gusto ng mga estudyante.
ADVERTISEMENT - CONTINUE READING BELOW
"Una, ayaw nila ng binobola sila. Dahil sa tingin nila mas marunong pa sila sa mga nagsasalita.
"Yung pupunta sa campus nila, magli-lecture doon ng kung anu-anong English na mali naman.
"Ayaw ng estudyante yun. Ang gusto nila, mas magaling sa kanila, at nagsasabi ng totoo higit sa lahat."
Sen. Miriam expressed her thoughts on the current probe into the alleged anomalous deals involving Vice President Jejomar Binay when he was Makati mayor.
"Kamukha nitong mga imbistigasyon ngayon sa senado. Sinong nagsasabi ng totoo?
"Yung mga senador na nagtatanong? O itong ayaw pumunta [sa senado] na bise presidente?
"Ang pagtatanong diyan—bakit kung wala siyang kasalanan ay ayaw niya pumunta doon?
"At malapit na tayo ngayon sa punto na ang anak niyang mayor, ay pinagbabantaan na ng ibang senador na isyuhan ng warrant of arrest pag hindi pumunta."
"SANA MATAPOS NA ITO." She expressed her wish for the Senate probe to end soon.
"Kaya sana matapos na ito, kasi pagkatapos ng bisita ng Pope, mukhang ang tao uplifted na.
"Nakatingala na sila, nagdadasal na, tapos ito bumalik na naman tayo sa putik.
"Sana matapos na, at ang pinakamadaling makakatapos nito ay magtestigo na sana itong mag-ama para mapunta na lahat sa ombudsman."
Sen. Santiago said she hopes for more positive news for the Filipinos. "We should have other news on the horizon instead of getting stuck [here].
"The [Senate probe] does not bring hope or any good cheer to the Filipinos.
"If there was any wrong-doing in the past, let's find out who are responsible for it and let them suffer what the judicial system imposes.
ADVERTISEMENT - CONTINUE READING BELOW
But let it not go on forever, because only my book Stupid...is forever."