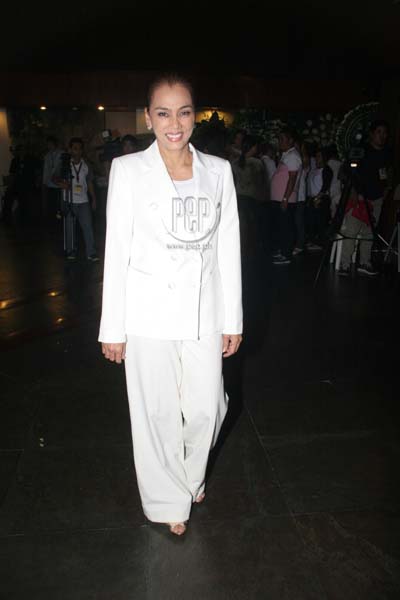 IMAGE Manila Galang and Noel Orsal
---
Kuh Ledesma is celebrating her 35th anniversary in showbiz this year. Her secret to longevity?
She smiles, "Sinasabi ko hindi ako tatagal ng ganito, na sa edad ko, sobra pa rin akong blessed with a lot of offers, work.
"Parang hindi ako 35 years in the business.
"The Lord answers prayers. Masipag akong magdasal, kumatok sa langit.
"And I obey, you know things like tithing, yung 10 percent, offerings.
"I have learned new things because I have made time to read the Bible and to study with other people who know better than me."
WRITING HER LIFE. Kuh Ledesmaa is kickstarting her 35th year in showbiz with another reunion concert with Music & Magic entitled The Music of the Heart, The Magic of Love on February 14 at The Theatre, Solaire Resort & Casino.
In addition, she is finishing her book about her 35 years in showbiz.
She clarifies, "Actually, 35 ako after Music & Magic, pero with Music & Magic, around 37 years.
"I am going to put some there as a historical whatever, kasi yung 35th ko ngayon is not with the Music & Magic.
"Yung 35th ko at the end of the year will be with the other stars I have worked with..."
The book has been a year in the making and Kuh is writing it herself.
She says she wants to tell the stories from the time she was a member of the band Ensalada before Music & Magic up to her career today as singer, actress and music producer.
"I'd like it to be a book of pictures… image is so powerful, words are powerful.
ADVERTISEMENT - CONTINUE READING BELOW
"Our relationships are important in the business, and hard work, being humble, and working with the best..."
The book does not have a working title yet, but the singer-actress is leaning towards "the same title as my show this year na malaki, 35 Only. Kasi 35 lang ako."
She adds, "I don't want to promise 35 stories, baka more," further saying she hopes to finish it by the end of the year.
"Hindi siya madali, mahirap," she remarks about the project that will unearth her vast collection of photos, crates of them.
She says she'll find a way to include her soap opera experiences in the book.
Starting the book had not been easy, according to Kuh. First, her collection of photographs was nearly swept away by a storm.
She relates, "Muntik mabagyo. Nakatago doon sa bahay ko, sa hacienda, mataas yung bahay ko kasi.
"So yung isang bintana, hindi ko nasara kasi, 'di ba, it's moist sa Tagaytay, bumukas yung ano.
"The hacienda was like a war zone. I mean, may nalaglag na dalawang puno… yung mga branches na naputol, grabe.
"Pagdating ko doon, it took us about a week to clean it up.
"Nabasa yung iba, may mga nasira kasi naiwan nga yung window, pero minimal lang.
"Buti hindi ko nilagay doon sa isang section na nabasag yung tatlong windows ko.
"They [photos] could have been destroyed… lahat."
For Kuh, the book is a legacy but she hopes it will also serve as an inspiration to aspiring talents.
"I don't want to make it about myself. They are pictures of myself but with friends.
ADVERTISEMENT - CONTINUE READING BELOW
"Kasi ang gusto ko, makita ng kabataan how much work I've put into my career so that they will also be inspired na talagang kailangan magtrabaho... "
SPIRITUAL PROJECT. In the planning stage also is the Pop Diva's For 35 Only concert.
"Hindi ko pa nade-decide pero baka Araneta [Smart Araneta Coliseum], parang mas maganda pa rin ang feel ng Araneta, 'di ba?
"At saka maraming tao, sanay ng nanonood sa Araneta."
She laughs when asked if she plans to put her 35th year concert and activities on a CD or DVD.
"Mayroon akong mga concerts na we're doing like a best of.
"I don't want to promise… too many things. We can always do that on the 36th!"
Outside of entertainment, Kuh is planning a major project as a spiritual commitment.
She reveals, "For the year, the Lord is calling me to do a women's conference… may mga talks and yet a lot of music.
"Testimonies for women, gusto ko na gumawa ng ganoon eh."
For the project, she is planning to tap "Coney Reyes, sila Maricel Laxa, ano na sila, strong Christian women. And they already travel and do their thingies."
She explains, "There's a need eh dahil ang marriages natin are being attacked. Not being attacked, it's being destroyed.
"There's too much adultery going on, separation, there are too many families that are being broken."
Does this include same-sex marriages as that of Aiza Seguerra and Liza Dino?
Kuh gives a soberly reply, "What I think of it, Book of Romans in the Bible, chapter one, you will find it there.
ADVERTISEMENT - CONTINUE READING BELOW
"That's what I think of it. What God thinks, I think.
"What is not good with God, is not good with me, it's as simple as that.
"That's why God hates sin, but He loves the sinner.
"Tayo kasi sinners tayo lahat, eh. I may not be gay but I have other things that I did in the past na, you know, hindi rin maganda.
"So lahat tayo, because of our upbringing, exposure...
"Now that I've become a Christian, I've become more conscious of the things that happened to me in the past.
"Sabi ko, 'Gosh, Grade 2 palang kami, yung mga kaklase ko noon, kung anu-anong kabastusan dino-drawing.
"Because siguro yung parents nila, nakikita nila. Ngayon ko lang na-realize."
WALKING WITH GOD. Kuh says she is happy that her daughter Isabella shares her faith.
"Especially now medyo the Lord dealt with her in a way na mas nagkaroon siya ng depth sa kanyang walk, which God wills naman, eh.
"When we start something with God, He will definitely work it through.
"Sabi ng Bible there's a promise, 'He who began a good work in you will complete it.'
"So hindi ka pwede maging stagnant as a Christian.
"Pag mayroon kang… when you surrender your life, He will do something to continue to cleanse you and cleanse you.
"And look at me, 'dati di ako makatulog masyado, masyado akong into my career.
"Kapag pinikit ko na yung mata ko, I'm creating and creating, parang not enough.
"Now, I'm still creating but I can wait for the next day.
ADVERTISEMENT - CONTINUE READING BELOW
"Noon, alas dos na, parang 'di pa ako tapos, parang I still have something to do, parang masyadong obsessed, the mind is too active.
"Ang Diyos, 'di niya tayo crineate na maging obsessed or too addicted or focused on our career.
"You can be focused pero dapat God-focused ka muna.
"Kasi now I say kapag matutulog na ako, 'Lord tomorrow is another day, give me my ideas tomorrow. Whatever you want me to.'"
"Pagka may relasyon ka kay Lord, He will help you na hindi ka masyado maging… parang obsession.
"I'm not saying that it is not good… [pero] passion, huwag obsession."
She also reminds, "Kasi ang tao akala nila, God is love.
"Oh yeah, He loves us so much na binigay Niya yung kaisaisa Niyang Anak pero yung dapat may takot tayo sa kanya.
"Ibig sabihin, kaya sinasabi the fear of the Lord is the beginning of wisdom.
"Eh makikita mo yung mga tao na walang takot sa Diyos.
"Hala, tuloy-tuloy sa kasalanan hanggang parang tren na bubunggo na sa pader. May bayad lahat."