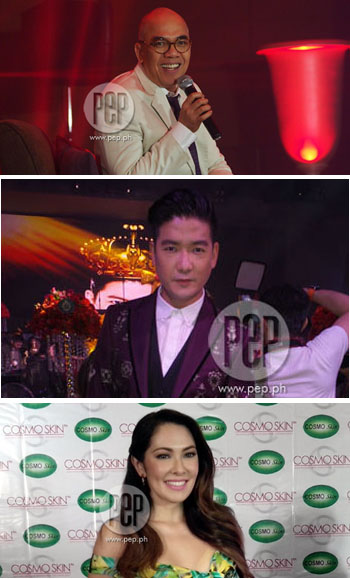 IMAGE File photo
---
Did you know that Boy Abunda has consulted a feng shui expert about his sleeping position?
At Maritess Allen's feng shui convention, he confirms, "Totoo yun. It is something that has become so integral in my life.
"Why? Because I don't like anything that makes me uneasy.
"Maritess has that talent, that gift to make things easy.
"She has the language, a way of making friends, a way of living that makes you so comfortable."
In time for the Chinese New Year, here are some lucky stuff you can wear or put on as accessories, according to Maritess.
1. Florals will continue to dominate fabrics and design inspirations for 2015.
2. For Snake animal signholders like Vilma Santos, Nora Aunor, Sharon Cuneta, and Maricel Soriano, horse prints can bring you positive energies.
And swan prints, for love, wealth and protection.
3. For those born under the sign of the Ox like Angel Locsin, KC Concepcion, and Julia Barretto, they are described as having classic taste and being conservative.
ADVERTISEMENT - CONTINUE READING BELOW
Here are your lucky fashion items for the year: an affirmation pocket square for men, horse bangle for prosperity, and scarves or prints featuring the ox and its allies, to name a few.
4. For rooster people like Senator Miriam Defensor-Santiago, Coco Martin, and Luis Manzano, you may need an apple hanging accessory for peace, harmony, longevity.
Also, stud earrings for a healthy life and a sheep shawl for protection.
5. Popular Rats like Anne Curtis and Kathryn Bernardo may find coin stud earrings for wealth, a longevity necklace, and a cardigan featuring a coin print.
6. Monkey signholders like Senator Grace Poe, it may be worth your while to invest on sleeves top in horse prints for energy, and a mystic knot chain for good wealth.
7. For the Dragons who are described as awesome and charming like Rita Avila, Tim Yap and Korina Sanchez, Maritess suggests antakharana prints for health and longevity, coin earrings for good business and fortune, and the sheep shawl.
ADVERTISEMENT - CONTINUE READING BELOW
Via video, Tim Yap shares, "Life is not about what is missing, I always look around myself and look at the blessings I have and look at the potential to multiply. It should grow.
"I follow feng shui to the dot…"
8. For the Rabbit people (Jennylyn Mercado is one!), who are described as sharp and vigilant, these are the items considered as lucky: a top in swan prints for love, wealth and prosperity; a cowl neck top in wulou prints for good health; a horse shawl for overall prosperity; three-coin earrings, a scarf with the Rabbit allies Sheep and Boar, and a sheep bangle.
9. The Sheep signholders are described as practical and wise. Stars who are born under the sign include Jericho Rosales and Ogie Alcasid. Some items to be considered: a corporate jacket with lucky horse lining for wealth, business and fortune and a pagoda top with ruching to protect from harmful energies.
ADVERTISEMENT - CONTINUE READING BELOW
10. Classy Boar Kris Aquino, Toni Gonzaga and Lea Salonga may wear a horse shawl for positive energy and a cowl top in double happiness prints for love and marriage.
11. For the Horse, who are described as flighty and fabulous, 2015 is the year they will continue to carry or combine clashing patterns and do it well. Popular Horse people are Judy Ann Santos, Kim Chiu, and Megan Young.
Items to consider include the coin print for good business, a kaftan bearing the pagoda print to avoid misfortune and negative vibes, and a double happiness print dress for love and marriage.
12. Dog signholders are loyal, amiable and fashionably trendy. Dogs in showbiz include Regine Velasquez, Billy Crawford, Julie Anne San Jose, and Boy Abunda.
The Kapamilya host/talent manager, who had his first major health scare in 2014, recalls, "I was very afraid, first time I was hospitalized in all my life.
"It was scary. It was very difficult. I had a lot of stress. I had 16 doctors.
ADVERTISEMENT - CONTINUE READING BELOW
"I was brought to the hospital with 43.5 fever, I was biting my tongue, convulsing, bloodied. They aspirated from my liver..."
For 2015, Boy will be happy with the Dog's lucky accessories: mystic knot with drop beads earrings for wealth enhancement and a wulou ring for good health.
13. Tiger people who are said to be charming, enigmatic, brave, sophisticated and always the first to try new styles include Ruffa Gutierrez, Angelica Panganiban, and Rachelle Ann Go.
Ruffa, also through video, shares how she remembers the feng shui lady's advice, "I remember when you came to the house and you said why was I sleeping facing the mirror?
"'It's horrible, it's bad luck,' you said.
"And when you changed it, men from my past started calling... patay na, nabuhay ulit!"
Mystic knot design with heart on a necklace is said to be lucky for Tiger people who wishes for wealth, prosperity and love,.
ADVERTISEMENT - CONTINUE READING BELOW
As Boy Abunda has said in the past, it's up to an individual to believe in this or not as he won't even go into a debate whether feng shui is true.
For him, "Ganun lang ka-simple yun. The story is when I use all these things that Maritess gives me, they work."