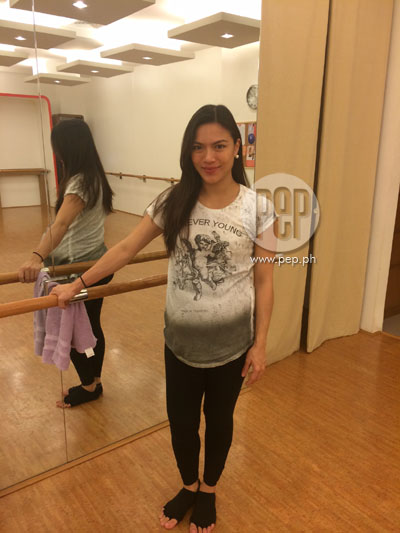 IMAGE Kaye Estoista-Koo
---
"I'm waiting to pop na, I keep walking para it goes down na," the very pregnant Ciara Sotto told PEP.ph (Philippine Entertainment Portal) when we caught up with her at Barre 3 The Spa, East Wing of Shangri-La Plaza Mall.
This was right before her recent bridal shower organized by her family, and attended by her famous cousin Sharon Cuneta.
Ciara, one of the most prominent celebrity pole dancers, has been doing barre3, a custom workout that involves the disciplines of pilates, ballet, and yoga, since 2013.
"When I can't pole, I go to Barre."
In the class, Ciara is the only pregnant participant, and yet she is one of the most active and energetic despite being in her last trimester.
She said it's not easy as it involves a lot of stretching, small-range tight movements, and full-range movements designed to increase heart rate and intense core work intended to make one stronger overall.
ADVERTISEMENT - CONTINUE READING BELOW
ADJUSTMENT. Why it's important that she continues with her physical activities?
"When I found out I was pregnant, they made me stop, as in all kinds of workout.
"So for the first three months, wala akong ginagawa na workout.
"When I got the go-signal from the doctor na I could work out na, I went back!"
She explained she was not in a delicate situation during her first trimester, but her doctors "wanted to make sure kasi first baby, pero I really didn't want to stop working out."
It was a huge adjustment for Ciara, "During the break, parang I almost lost my sanity.
"I was like, oh my gosh, just visiting my mom, ganoon lang... parang, I can't run?
"E, I was doing gymnastics pa before I found out so parang I was so bored talaga.
"Pero I know naman it was worth it, buti na rin lang pinayagan din ako.
ADVERTISEMENT - CONTINUE READING BELOW
"Some kasi, nag-i-spotting so bawal mag-workout.
"Buti sa akin, everything was normal naman."
RAISED SUGAR LEVEL. How often does she go to the studio now?
"I try to go, from the fourth month, siguro mga three times a week.
"And then when I was diagnosed with gestational diabetes, I tried to go every day."
She said she might have acquired gestational diabetes from eating too much sweets.
"I had to [curb] that during Christmas, it was super torture kasi ang daming bawal sa dessert, ganyan.
"So I'm trying to compensate by working out, which is good naman.
"My endo [endocronologist] told me it's good na I'm working out to really help lower the sugar levels."
She mentioned that the mothers in her circle have urged her to try pre-natal yoga or pilates.
"Mas gusto ko pa rin yung barre3, 'di ako masyado nag-enjoy doon sa pilates, 'di kasi ako pinawisan.
ADVERTISEMENT - CONTINUE READING BELOW
"Parang kulang, e. I stopped na lang and I went back to barre."
DIET. Ciara is hoping for a normal delivery—which, she said, is one more reason to keep working out.
"I've been working out because they're saying it will really help when I push.
"So far, my doctor says everything is normal, the weight and all.
"I just don't want it to grow really big, 'di ba?"
She has also been watching over her diet, "It's so hard. Well, I can't have rice anymore.
"Since six months ago, hindi na ako nagra-rice.
"I tried to have brown rice pero sometimes it really raises [sugar level] pa rin, so 'di na talaga ako nag-ra-rice.
"I add mga vegetables ganyan even if hindi talaga ako mahilig.
"I try to eat vegetables every meal and then high-protein.
"What I drink is hindi na iced tea.
"Before kasi, every meal, three glasses of iced tea ako per meal, parang doon ako naglihi."
ADVERTISEMENT - CONTINUE READING BELOW
UNUSUAL CRAVINGS. So she went through the craving stage?
She laughed, "Sobra... Sushi, iced tea, ice cream, pickles, that's true pala.
"Ice cream and pickles, kasi I wanted a hotdog, yung hotdog na maraming pickles and then gusto ko ng ice cream after.
"Wow, it's true pala what they say.
"Yung ganoon, yung weird cravings. My mom would tell me na dati she'd tell my dad na she wanted Washington apples.
"Pag hindi Washington apples hindi niya kakainin, she'd cry.
"Sabi ko, 'What?' Parang I don't have that episode."
Ciara's parents are Senator Tito Sotto and Helen Gamboa.
She continued, "Kailangan pa daw pumunta ng Bulacan ng dad ko, doon sa stewardess friend nila to get yung Washington apples.
"Kasi yung red na ganoon, wala, 'di niya kakainin.
"'Tapos minsan, papabili siya ng steak and when it was there na, ayaw na daw niya."
LAZY. Ciara and her husband Joe Oconer are expecting a boy, but they have not decided on his name. All they have is a nickname for him.
ADVERTISEMENT - CONTINUE READING BELOW
Ciara said, "Wala pa talagang final but his nickname will be Crixus.
"My husband kasi, gusto niya yung nickname na yun.
"He's a gladiator. He's the right hand of Spartacus, that handsome guy," she giggled like a young teenager.
She added, "We're planning to put together the names of my dad and his dad, pero we're looking for variations pa."
Ciara also admitted she hasn't yet prepared the house for baby Crixus's arrival, "I'm cramming na, I'm cramming.
"Sabi ko, bakit hindi ako nag-ne-nest, parang yung husband ko yung nag-nest for me as in he cleared the other room.
"Wala, as in wala, ang palpak ko, sabi ko, 'Oh no, hospital bag lang inayos ko.'
"I have no idea, wala lang, I'm so tamad, super tamad lang, parang I'd rather sleep after workout.
"And sometimes kasi, since I'm watching my diet, ang dami ko talagang gustong kainin.
"Pero kasi nga bawal, it kinda makes me sad."
ADVERTISEMENT - CONTINUE READING BELOW
She is thankful though that before her baby shower, she's gotten some useful gifts like a baby swaddle and items that Babyland sent over.
Ciara also reveals the parenting discussions between her and her non-showbiz husband Joe.
"He keeps saying he wants to be tough love daw kasi he doesn't want to raise an entitled child.
"Especially daw that I'm the daughter of my dad, I was like, 'Yeah, I agree with you but I don't believe na magiging tough love ka.
"Kasi boy e 'tapos first baby. Pero siguro we'll see but I don't know yet."
The 34-year old actress and fitness advocate shared that she's not into tough love, "Feeling ko hindi, feeling ko I'll be strict in some things.
"Pero I really don't know, that's what scares me nga e, what kind of parent I'll be.
"I'm a cool aunt but I don't know..."
At present, she's reading "that co-sleeping thing kasi I plan to breastfeed, e.
ADVERTISEMENT - CONTINUE READING BELOW
"Sana mayroon, there are moms na wala talaga lumalabas, e.
"Pero I'm attending a latch class, so they're gonna help me out."
She had also checked out what kind of physical activity she can go back to after delivery.
"Rest first because the barre3 teachers told me there is gonna be abdominal separation.
"So I have to rest it first for it to heal completely, before I actualy work out."