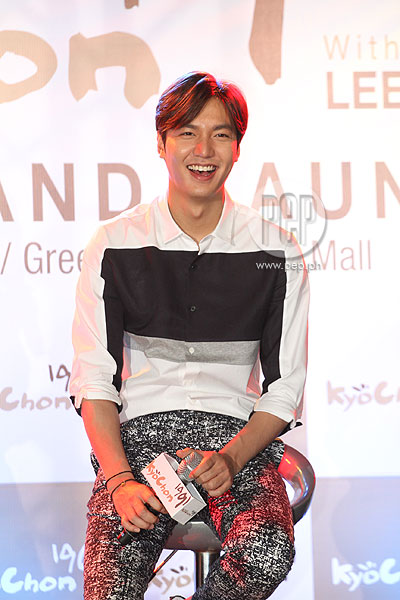 IMAGE Noel Orsal
---
All roads led to San Juan City for Lee Min Ho's fourth visit in the country.
The face that launched a thousand fans, Min Ho headlined the grand opening of Kyochon restaurant at the Greenhills Theater Mall, early Tuesday evening of February 24.
Having visited the country for the past three years, the 28-year-old Korean superstar seemed more at home as he greeted the huge Filipino crowd, who had been waiting for him three hours prior to his expected arrival.
"Hello Philippines! Mahal ko kayo! Na-miss ko kayo!" Min Ho exclaimed, much to the delight of his Pinoy fans.
As it is with all die-hard fans, some even burst into tears with a mere glimpse of the dashing Korean star, whose stardom catapulted via the 2009 Korean TV series Boys Over Flowers, followed by more hit dramas such as City Hunter and The Heirs among others.
Never mind the strict security measures, Min Ho was so overwhelmed with the warm reception of his Pinoy fans that he even made an effort to get nearer the fans in front of the makeshift stage.
ADVERTISEMENT - CONTINUE READING BELOW
At one point, one of the 30 lucky winners of the fun meet gave Min Ho a tight hug upon seeing him up close on stage.
Getting too close to international stars is usually not allowed by their own security, but Min Ho didn't seem to mind and even embraced the giddy fan back with much enthusiasm.
VIEW PHOTOS Lee Min Ho visits Manila for the fourth time
HE WANTS TO RETURN. Acting as Min Ho's translator, events host Sam Oh relayed the Korean star's message for his Filipino fans.
"He wants to thank Kyochon because he's in Manila this time because he is the [restaurant chain's] brand ambassador…
"He's so happy that you all came out to see him," said Sam.
Speaking in Korean, Min Ho shared that he would love to return in Manila for a concert and get the chance to interact longer with his avid supporters.
ADVERTISEMENT - CONTINUE READING BELOW
Sam further translated for Min Ho: "He likes to perform for his fans.
"Wala pang official na decision yet with Kyochon, pero he hopes he will meet all of you again and he'll be able to perform for all of you."
At the end of the question and answer portion, Min Ho invited everyone to watch his upcoming movie Gangnam 1970, a noir action film depicting the tumultuous history of real estate development behind Seoul's now most famous district.
"So, he's wondering kung familiar kayo sa Gangnam sa Korea.
"Dahil nga sa kanta na 'Gangnam Style,' he feels like this is probably gonna be a very familiar title to all of you.
"At ang alam niya, it's opening in the Philippines on March 4.
"It's set in the year 1970 and he's very confident that the message of the movie will be something that all of you will enjoy," Sam interpreted.
ADVERTISEMENT - CONTINUE READING BELOW
WIN-WIN. San Juan City Vice-Mayor Francis Zamora, who owns the Greenhills branch of Kyochon, was thrilled that Kyochon International picked his branch to be the venue for Min Ho's Manila visit.
"Kyochon International was the one who was able to work out for Lee Min Ho to be the international brand endorser.
"Kyochon has hundreds of branches in Korea and also other branches all over the world.
"It so happened that here in the Philippines, they have three branches and more are opening soon, but Greenhills branch is the third one," Zamora explained in an interview with PEP.ph (Philippine Entertainment Portal) right after the program.
Aside from the business aspect of it, Vice Mayor Zamora shared that bringing in a Korean superstar is a big boost for San Juan City, which has so far served as venue for intimate concerts of local stars.
"As early as December, they [Korean International] were already choosing which among the three branches he would visit.
ADVERTISEMENT - CONTINUE READING BELOW
"We're all lucky they chose Greenhills.
"It's also the first time they have this kind of event in Greenhills.
"Usually they hold concerts [in Music Museum], but never something of this magnitude.
"So ngayon, we did something in an open [area].
"Malaki rin ang equity for Greenhills shopping mall because all the fans trooped here to see Lee Min Ho," said Vice Mayor Zamora.
For security purposes, the four-lane road and the entire open parking lot of Greenhills Promenade shopping mall was closed from around 3:00 in the afternoon until past seven in the evening.
The program proper, which lasted for less than an hour, started at past six in the evening.
But no matter how short his visit was, Min Ho brought so much happiness to his Pinoy fans.
Vice Mayor Zamora added, "It's a win-win situation for everyone—Kyochon, Greenhills, the theatre mall and for Lee Min Ho himself—you could see in his eyes that he was happy with the very warm reception of the Filipinos."
ADVERTISEMENT - CONTINUE READING BELOW
Min Ho checked in at the EDSA Shangri-La Hotel during his overnight stay in Manila from February 24 to 25.