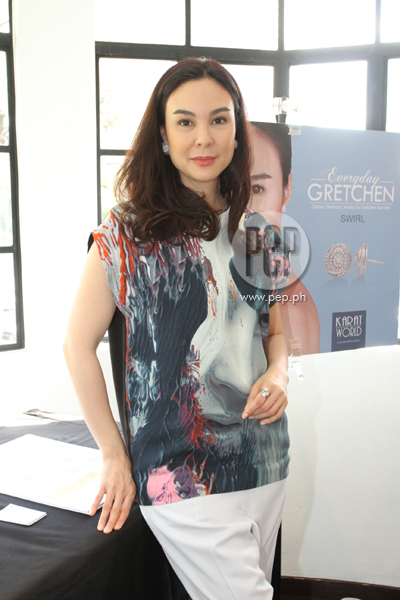 IMAGE Noel Orsal
---
Gretchen Barretto is as much at home in high society as she is in showbiz.
She leads an enviable lifestyle, and some women just hate her for it.
Moreso because she remains one of the most beautiful faces among the celebrities, even when she will be turning 45 soon.
She is also a family woman adored by her long-time partner, business tycoon Tonyboy Cojuangco, and their daughter, Dominique.
Still, La Greta's most admirable quality is her candor.
At the presscon of her endorsement Karat World held last Friday, February 27, at Blackbird in Makati City, Gretchen was chatty about her "sosyal" image.
Here are 12 interesting details that we gathered about her fabulous life:
1. "Mukha lang akong sosyal, I can fake it."
Laughingly, she added, "Siguro ang tingin nila sosyal, it's the packaging.
"Hindi naman ako pinalaking mayaman na sosyal,"
VIEW PHOTOS Gretchen Barretto on being sosyal, birthday wish, and jewelry collection!
2. Her jewelry pieces are mostly gifts.
"To be honest, I couldn't really afford very, very expensive jewelry.
"Whatever expensive jewelry I have were given to me, lucky me.
"I don't buy jewelry, they're given to me, modesty aside.
"I'm sorry, but that's the truth. But I really don't buy anymore," she revealed.
3. She feels uncomfortable talking about the cost of her jewelry. Yes, media people who know her can attest to this.
"Oh my God, I'm ashamed! I don't know. But all I know is that 20 years ago, hindi pa ganun kamahal.
"At that time, it really sounded very, very expensive.
"Now, when I look back, magkano lang ang dollars nun, e.
"So I'm glad whatever we purchased before, they're all kept. I don't wear them, it's not safe, and it's not even safe to talk about it.
ADVERTISEMENT - CONTINUE READING BELOW
"I think I'm a lucky girl. Lucky me na lang na the really expensive ones na on my own, I really cannot afford, so there.
"I'm not sad about that, I'm very happy."
4. When she buys, she calls her purchases investments.
"If I'm talking about my personal experience or how I view things, I'm a girl.
"When I see something and it catches my attention and I know I cannot sleep tonight without that piece, I call that investment.
"That's how I look at it, I justify it, not only with jewelry but with anything in life.
"Tony always used to tell me, hindi daw investment, sabi ko, 'Ay naku, investment talaga siya.'
"'Di ba tayo ipaglalaban natin?"
5. The first expensive piece of jewelry she bought was a Rolex watch.
"Yun gives-gives ko binili, I bought from Vicky Elises [jeweler], yung Rolex na two-tone.
"Yung pinaka-una, yun talaga, that was my dream.
"Every time may nakikitaan akong ganun, my eyes would be forever doon na naka-focus, and I said, 'I wanna get that one day.'
"I was only able to fully pay that in a year."
6. Her favorite piece of jewelry is a pair of custom-made earrings from Karat World.
"And everywhere I go, when I go to London, I wear them.
"And they're like, 'Where did you get those?' [I say] It's from Karat World, come to the Philippines."
7. Shopping tip: Girls should shop within their means.
"They should invest in something that catches their attention and something they can afford.
"You always go for that because if you try to buy something you can't afford, you'll never gonna be happy.
"You're forever gonna be paying for something you can't [afford].
"You know what [I] mean? You have to be happy, stylish."
ADVERTISEMENT - CONTINUE READING BELOW
PHOTOS: Gretchen Barretto on being sosyal, birthday wish, and jewelry collection!
8. She's also practical.
"I like the finer things in life, but I can also be very practical, simply because it's very difficult to earn money.
"You really have to work hard for it. Nothing comes easy.
"Nowadays, what I see is people don't really buy the super expensive pieces.
"That's why we want our pieces to be affordable.
"You don't have to be afraid when you purchase rings or you wanna be in style, as long as they're eye-catching and, I guess, trendy also."
9. How she mixes and matches jewelry with her outfits.
"For me, to make it easy, I always have white gold.
"And always gold, especially when you travel, it's easier to just mix and match."
10. She's not tied down to a limited style.
"I don't really like choosing, I don't like the term 'favorite,' because it limits you.
"In fact, you don't have to be limited to anything, you're not married to it.
"You can like everything, you don't need to have everything, but you can like everything.
"That's the only thing that's free, now if you can have everything that's even better.
"That's why we go for affordable pieces because with that, we can have it all. If you have a budget, you can have it all."
11. She follows her mood.
"It [fashion] goes with my mood, like, right now, I've been so busy and I had a massage before coming here and I needed to wake up.
"I felt I wanna be relaxed. So this is how I came in, something relaxed, colorful, nothing fixed in mind.
"I'm wearing Comme des Garçons for the bottom and the top, I bought from London.
ADVERTISEMENT - CONTINUE READING BELOW
"Fashion for me is moods. If this is my mood, today I just really wanna be crazy, fab, chunky, filled with everything, so that's what I do.
"But there are days I just wanna be wearing something fab, but not too much. It really depends on the mood."
12. She dresses for herself and not for other people.
"For myself, of course!
"You don't see your fans everyday, but you see yourself everyday.
"It's my mood.
"For my makeup, I always want something that's light and natural, unless I'm going to an awards night.
"If it's an awards night, then something more glam.
"If you're shooting a film, it depends on the role.
"It really depends. I prefer not wearing [makeup] if I can."