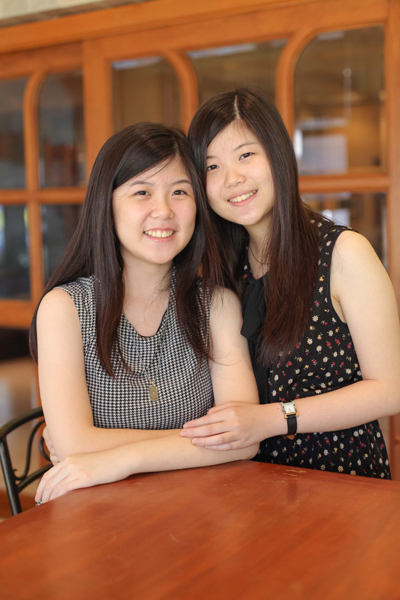 IMAGE Emerson Leonor
---
It was supposedly just for fun, nonetheless, the MAJAM sisters' mashup of Taylor Swift's 1989 album was so good that it made waves.
And after it caught the attention of the widely-followed American online news site The Huffington Post, Abigail and Audrey Vy are hoping the multi-awarded American singer would notice their cover.
In an exclusive interview with PEP.ph (Philippine Entertainment Portal), Abby and Audrey shared tidbits about themselves, their love for Taylor Swift, and how they started their YouTube covers.
1. They discovered their passion for music at an early age. Sixteen-year-old Audrey recalled, "We have photos when we were really young and already singing in birthday parties.
"Drums were my first instrument when I was eight, and my second instrument would be the piano when I was thirteen."
Eighteen-year-old Abigail, or Abby for short, is just as musically attuned, "I guess I started learning how to play the guitar when I was ten."
2. Taylor Swift is their inspiration. Abby proclaimed they're all-out Swifties. "Oh yeah, we love her! She's like the best, she's our inspiration.
"She's the reason why were starting this whole YouTube thing in the first place."
Audrey affirmed, "I love the way she writes her music, she's very real. She's not afraid to just express her feelings.
"She's very open, and she's very honest."
Apart from being Swifties, they also admire other pop artists.
Abby is a self-confessed Jonas Brothers fangirl, "Even if they separated already they're still my most favorite band ever."
For Audrey, "I like Demi Lovato, she's a very powerful singer, she's very strong as an individual.
"She has this personality that a lot of people would want because she's fearless."
Do they admire any local artist? "Lea Salonga is amazing too, she's really good," Abby said.
ADVERTISEMENT - CONTINUE READING BELOW
3. MAJAM is an acronym of their names. Abby explained its origin, "It's actually an acronym of our names and our cousins' names also.
"They helped us from day one, and until now we always get their opinion.
"MAJAM is actually our group name, since I was ten and Audrey was eight. We really wanted to keep it because they really helped us a lot.
"M is Margaux, A is Abigail, J is Jana, A is Audrey and M is Maddie."
4. How they prepare their cover songs. Audrey narrated, "We just get a camera and we just sit on a couch with our instruments and sing."
Though it sounds so simple, it does take them days to finish a cover.
"It depends because sometimes when creating the medley, you do a part first, then you stop for a while, and then you continue maybe the next day.
"Something like that. It really depends but this medley [1989 cover] wasn't so long naman, maybe three days, then we finished the medley."
Abby shared they also consider the song's popularity in their covers, "Based on what's everyone listening to…and our favorite artists."
5. Why they did the 1989 mashup. Abby revealed, "Well to really get Taylor to see it."
Audrey added, "And we posted this during December 'cause it's Taylor's birthday month."
What's next for the MAJAM sisters after their sensational Taylor Swift cover?
Audrey declared, "Well, it's to continue posting covers, and hope for the best because the future is a mystery."