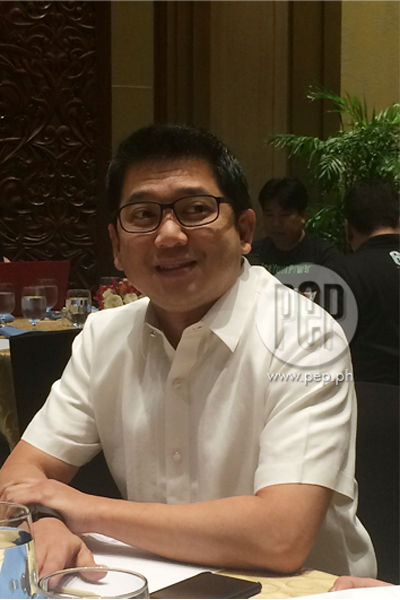 IMAGE Kaye Estoista-Koo
---
Quezon City Mayor Herbert Bautista will spearhead Earth Hour's grand switch-off event to be held at the Quezon City Memorial Circle a week from now on March 28.
The event also coincides with the city's celebration of its Diamond Jubilee.
The Earth Hour is a global initiative to conserve energy that was started in 2007. It urges as many citizens from all over the world to turn off their lights for 60 minutes at the designated hour each year.
The country has been part of this initiative through WWF- Philippines, and since 2009 has been topping the town and city participation levels.
Apart from the grand switch-off, Earth Hour's main activity in the Philippines this year is the distribution of solar lamps to far-flung communities still living in the dark.
"Parang dapat araw-araw Earth Hour," as Mayor Herbert remarked during the Philippine launch of the world-wide event held recently at the Dusit Thani Hotel in Makati City.
In fact, the switch-off is being implemented in government agencies daily during lunch time.
The mayor attested, "Nakapatay talaga yun, so beyond that, it has to be extended even further.
"Mayroon tayong nilalagay na takdang oras na siguro, hindi naman lunch time.
"'Pag somewhere around malamig na malamig na, puwede ka naman pumatay ng aircon at saka ng ilaw ng bandang two o'clock sa umaga para mas nakakatipid tayo."
He shared, "My introduction to environmental consciousness started in the year 2007 when I saw this particular movement on TV.
"Sabi ko, simpleng-simple lang.
"Eventually, pinadala ako ni Mayor [Sonny] Belmonte sa Switzerland at doon pinag-usapan yung mga about environment hanggang sa pinaka-recent na pinuntahan ko sa Rio, and then the UN Summit on Climate Change."
He recalled how, while doing his PhD research work, he realized, "Napaka-forward looking nung mga bansa and may mga elements ng natutunan ko doon that the environment knows no boundaries, walang kinikilala.''
ADVERTISEMENT - CONTINUE READING BELOW
ENERGY-SAVINGS STATISTICS. In Earth Hour 2008, power consumption dropped by about 78.63 megawatts in Metro Manila and up to 102.2 megawatts in Luzon during the lights off period, according to the Philippine Electricity Market Corp.
The mayor does not have the latest statistics, but he emphasized the need for power conservation by citing the peso equivalent of power consumption in his city.
"Quezon City, on an annual basis, sa konsumo na lang ng kuryente namin on street lamps alone, ang ginagastos ay thirty-five million pesos per month.
"Times twelve months yun, no? So kung sampung buwan lang that's three-hundred fifty million pesos, what more pa yung mga ibang facilities ng Quezon City?"
Mayor Herbert clarified, "Of course, if you will be able to translate that in monetary terms and in equal importance, 350 million pesos, e.
"Ilang eskwelahan na yung maitatayo mo para sa K-12?
"Ilang health centers ang puwede mong itayo para sa mas nangangailangan pa ng tulong?
"Marami. Napakalaki nung value ng matitipid natin just in case ma-quantify natin 'eto in monetary terms."
Interjecting, Atty. Angela Consuelo Ibay, Earth Hour Philippines director, said that in 2008 or 2009, "The amount of energy saved during that one hour was enough to power one powerplant."
Moreover, "Just imagine, it depends on what people are able to do. This year, we're partnering with DOE [Department of Energy] to be able to generate that data.
"It's not just the amount of money or electricity we're able to save, it's really also the habit of getting into energy conservation and thinking of energy efficiency."
RENEWABLE ENERGY. Atty. Ibay added that the long-term goal is the use of indigenous and renewable energy nation-wide.
"The Philippines is so blessed with sun, we have so much wind, we want the public to know that," she attested.
She said it has to be a collective effort "with different organizations and leverage, whether working in different communities or working with existing resources."
ADVERTISEMENT - CONTINUE READING BELOW
Since the Earth Hour switch-off event will be held at the QC Memorial Circle, will the establishments in nearby UP Ayala Technohub conduct advance preparations?
Mayor Herbert replied, "There will be announcements. We just hope that all, both public and private sectors, adhere to the call na at a certain time on that particular day ay mag-off sila ng kanilang mga ilaw at kuryente."
PHILIPPINES LAUDED. Dr. Marco Lambertini, director general of WWF International stressed, "United we can make a difference. Since Earth Hour started in 2009, it became the largest voluntary mass action for the environment."
He also proudly revealed that, since joining the global environmental initiative in 2009, the Philippines has been hailed as Earth Hour Hero Country for having the most number of towns and cities participating.
For this year's Earth Hour, Dr. Lambertini said he will be "everywhere and nowhere."
He disclosed, "I wish I could be in Quezon City but I cannot. I will actually be switching off the lights of the Eiffel Tower!"
He added that the celebration of Earth Hour continues to further the discussion on finding concrete solutions to climate change.
Lambertini reiterated, "It's a new way of conserving the environment for lasting action on climate change.
"Climate is not something we say will happen in our future, it is affecting today in so many ways, we feel it in our skin, we feel it in our pocket because the cost of repairing the damage of climate change is real.
"Climate change does not recognize boundaries. The poorest countries are gonna be the first hit. We are all in it and we all suffer from it.
"We now recognize we are all part of the blame and we will suffer the consequences because we failed to think collectively."
He concluded, "We can't wait any longer. The longer we wait the harder it will be to respond.
ADVERTISEMENT - CONTINUE READING BELOW
"We need to reinject hope. The innovation, the commitment, the determination is growing tremendously.
"The time to invest in a climate-safe free future is now starting with energy efficiency, reduction, emissions, and protecting eco systems.
"We need to keep our planet a living planet for ourselves today and for our children tomorrow."
GREEN QUEZON CITY. Mayor Herbert, for his part, affirmed his commitment to Earth Hour and environment.
He proudly reported that Quezon City is moving forward with green procurement by getting rid of plastic tonnage in the oceans.
Quezon City has banned plastics as part of its move for total phase-out.
Mayor Herbert said he has been is pushing for waste-to-energy initiatives because garbage collection and sanitary landfill maintenance alone cost P1 billion.
COLLECTIVE EFFORT. WWF-Philippines CEO Joel Palma emphasized the need for a collective effort for environmental protection, declaring, "We are all part of the solution."
"2014 was recorded as the hottest year in history. We have to think global, but we should act locally and strive to look for local solutions with an energy crisis looming," he acknowledged.
For his part, WWF-Philippines National Ambassador Rovilson Fernandez urged everyone to be more vigilant in coming up with practical and creative ideas for energy conservation.
He implored, "Everyone has a role to play. We can take things beyond the hour."