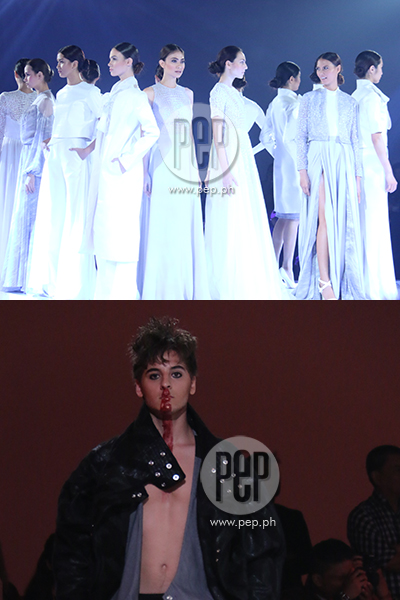 IMAGE Mark Atienza
---
Manila Fashion Festival (MFF) continues to serve as a platform for both young and seasoned designers to showcase their talents.
Organized by the fashion management powerhouse Art Personas together with One Globe Limited, the fashion festival is held from March 19 to 22 at The Eye in Green Sun in Makati City.
Manila Fashion Festival has grown bigger since its November debut last year. This season, the line-up of designers doubled, from the pioneering 12 to 25.
For the opening day, Renan Pacson comes back with MFF's newcomers Jerome Salaya-Ang, Happy Andrada, John Herrera, and Jot Losa.
FINDING ABSOLEM. Jerome Salaya Ang kicks off Manila Fashion Festival fashion shows with his fall/winter 2015 collection entitled Finding Absolem.
As expected, Jerome tells a new tale as he explores Lewis Carroll's Alice In Wonderland.
His collection focuss on structured floral fashion pieces—from floor length skirts to tailored trousers—with prints reminiscent of the enchanted forest in Alice's "wonderland."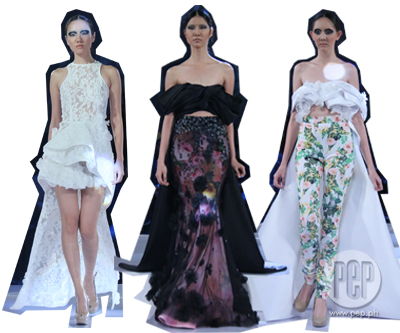 NINUNO. Happy Andrada goes back to her roots with her fall/winter 2015 collection entitled Ninuno.
Happy's latest collection is inspired by our rich cultural heritage.
She fuses traditional tribal weaves from Benguet province with modern neoprene and chiffon fabrics.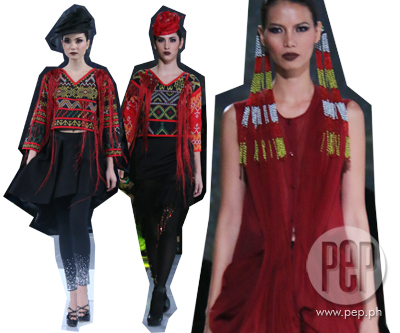 TRAVEL THROUGH TIME. Russian designer Yevgeniya Alexandra Yushkova showcases her masterful craftsmanship with her convertible clothing inspired by "the mere essence of revolution."
YAY brings back the 60s chic and gives it with a modern twist, using leather and silk with a black and white palette and a touch of vibrant red.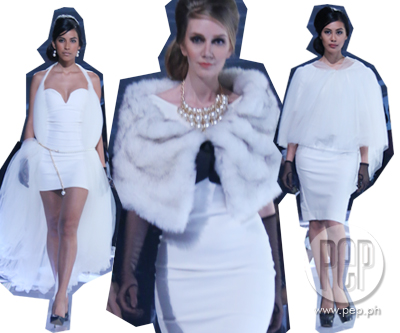 AMPHIBIA. In contrast to his eerie, dark Aswang autumn/winter 2015 collection, John Herrera's latest collection entitled Amphibia takes a different path with a contrasting black-and-white pallete plus a pop of red.
John merges his masterful laser-cut techniques with his choice of fabrics—neoprene and gazaar silk—which gives his collectedion a sporty, structured look, but maintains its femininity with form-fitting silhouettes and expertly-placed sheer panels.
ADVERTISEMENT - CONTINUE READING BELOW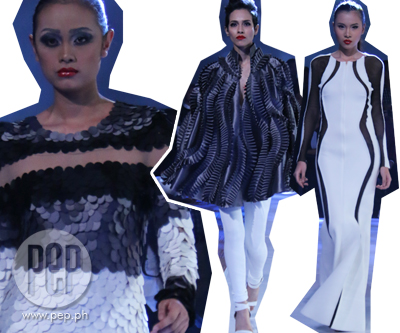 PALE BEAUTY. White and different shades of gray dominates Jot Losa's elegant fall/winter 2015 collection entitled Pale Beauty.
His masterpiece is described as"a collection that cultivates beauty as it was inspired by the unveiled charm of a woman."
Jot Losa uses layers and different textures to create depth and dimension to the pieces.
His collection also veers away from the usual form-fitting silhouettes to structured, A-line pieces with flowy skirts.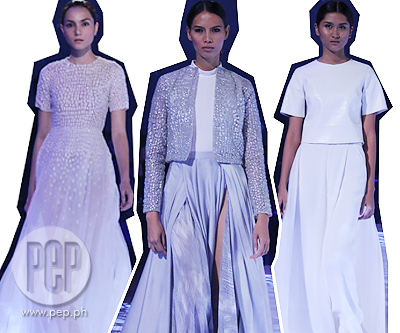 SANTA SANGRE. In contrast to Jot Losa's pale beauty, Renan Pacson takes a totally different path with his collection Santa Sangre.
Renan gets his inspiration from the 1989 Mexican-Italian surrealist horror film of the same name directed by Alejandro Jodorowsky.
Renan's eccentric, edgy pieces are very fashion-forward.
His collection is described as "harping on being free-spirited with a little edge, these pieces will arouse your senses with its unexpected fusion of fabrics and design elements as the collection takes you on an emotional journey."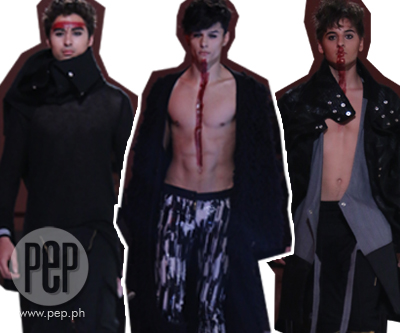 " data-url="https://www.pep.ph/lifestyle/30827/manila-fashion-festival-fallwinter-2015-day-1" data-desc="" data-image="https://contents.pep.ph/images2/writeups/8fe2e4d71.jpg">