The newest TRESetter is Georgina Wilson.
In an intimate presscon held at Desiderata Bar, located in Bonifacio Global City's Infinity Tower, she walked onstage embodying the brand's philosophy from the tips of her hair to the ultra-chic cage heels she paired with her Givenchy skirt.
LONG-HAIR WOES. She says that long hair provide women with the most versatile look, but it also has its downsides.
Raymond Gutierrez, who now sports a bleached blonde look, hoststhe launch and remarks, "I sported a man-bun for like a month. And it was too hard to maintain!
"But I'm sure it's not the same obstacle as you ladies go through."
Georgina nods in agreement, "For those of us who do have long hair, we all know it's really difficult to maintain healthy long hair.
"That's the key word there, healthy. As soon as split ends start coming up, our hair starts breaking and it's just a bad story!"
Georgina had already previously revealed to PEP her bad hair habits.
READ: Georgina Wilson reveals "biggest problem" and "worst habit ever" when it comes to hair
She recalled, "What I used to do was to cut my hair so the split ends would go away, but now with our latest innovation, we don't need to do that."
HAIR ISSUES. This is something we find out from the host of the upcoming Asia's Next Top Model herself.
She admits, "When we were with the girls, we had to teach them from the ground up how to model.
"And being a model in the fashion world means you have to take care of everything, and a lot of them came to set with really damaged hair."
George confesses that hair guru Lourd Ramos had a lot of work on his hands the entire season.
She narrates, "Lourd did a number on a lot of their hairs, watch for that, the tears on the show, episode 4 makeover... because some of the girls, they just didn't know how to take care of their hair.
"We had TRESemme hairstylists with us, and we taught the girls that this is what you need to do, you need to take care of your hair, put it on the ends."
Her constant reminder to the girls: "Going into a photoshoot, don't give people a hard time because no one wants to work with people with split ends."
HAIR TRENDS. Georgina, who's endorsing the Split Repair range, it's easier now to copy the long hair trends straight from NYFW (New York Fashion Week).
Some of her favorite hair trends are from "DVF, the very feminine blow-outs."
courtesy of style.com
DVF stands for Diane Von Furstenburg, known for her use of fabrics, patterns and the wrap dress.
But her top NYFW hairstyle pick if she were to walk this iconic show.
"What do I wear all the time? I wish the I-woke-up-like-this look but my favorite? The bombshell blowout. Very Victoria's Secret, it's very current on a lot of the runways."
courtesy of victoriassecret.com
Raymond continues that women also enjoy the edgier braids and twists as shown in the Michael Kors, Vera Wang, and Donna Karan shows, "because it allows women to change their looks and can go from day to night."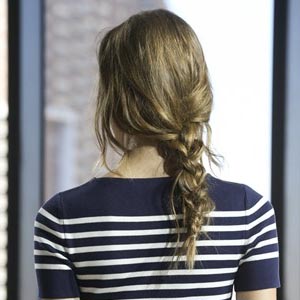 courtesy of vogue.co.uk
MORE CELEBRITY ENDORSERS. Several TRESetters are styled in these long hair runway trends.
Two young teens sport braids and twists, while Martine Cajucom, Bubbles Paraiso, and Phoemela Baranda wear the pony tail or the long tail in low pony and high pony.
Georgina points out that this style shows "how versatile and timely long hair can be worn low, high or however you feel."
Lastly, Gwen Zamora and Alyanna Martinez come out wearing Georgina's personal pick: the bombshell blowout.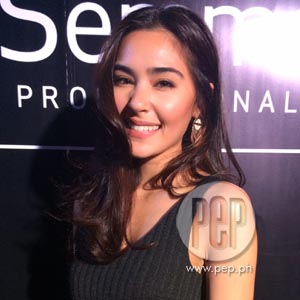 The model-host remarks, "What's remarkable is their hair looks super healthy, it's windblown without the wind."
"It's definitely everyone's crowning glory."