Eight designers presented a thrilling closing ceremony at the conclusion of the Manila Fashion Festival Fall/Winter 2015 last Sunday, March 22, at The Eye in Green Sun, Makati City.
Models and showbiz personalities paraded down the catwalk in clothes created by eight of the fashion industry's top designers: Jaz Cerezo, Bea Samson, Vania Romoff, Mark Tamayo, Banggo Niu, Esme Palaganas, and Tony Evan.
JE VEUZ TE VOIR. A collection that is bold, quirky, and playful, it was inspired by upbeat music and prints. Polka dots and stripes give Je Veux Te Voir a modern, yet classic motif. The pieces reinvent timeless silhouettes with intriguing textures, prints, and treatments.
Banggo Niu brings an intense, fresh look to the runway.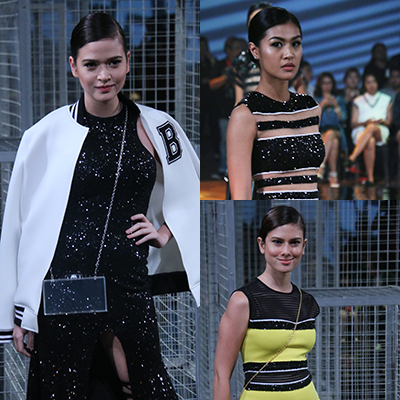 A LETTER TO JANE. A collection that amplifies romanticism and rebellion inspired by the gripping literary works of Jane Austen, a touch of regency and the Belle Époque era dramatically transition the pieces from black to white. It is dark and heavy, yet highly passionate.
Esme Palaganas brings an entrancingly soulful tone to the runway.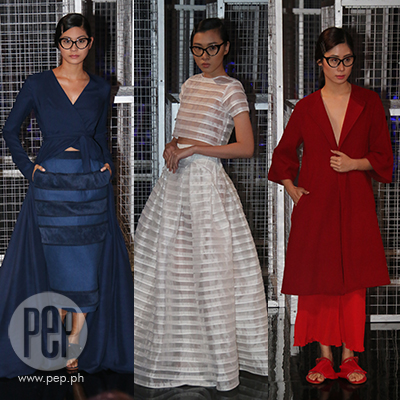 THE NEW CLASSIC. A collection that introduces mystery and seduction, it was inspired by robotics and sportswear. Skin tight, femme fatale dresses with slits and cuts in all the right places emphasize a woman's physique.
Tony Evan brings an alluring and dramatic tone to the runway.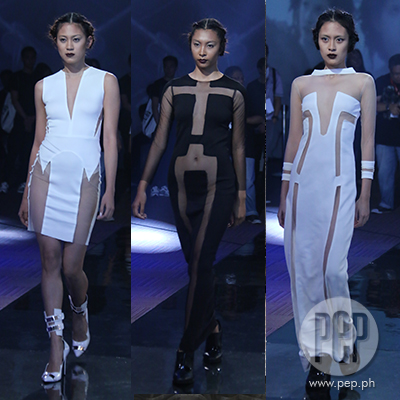 HIGH HIGH. Inspired by aviation and space exploration, this is a collection that is out of this world. With a mixture of ovoid and fitted shapes, greys and black blended with silver and blue, select fabrics like metallic mesh, wool, and faux fur, this collection is comfortable, warm, and stylish.
Bea Samson brings a heavenly experience to the runway and beyond.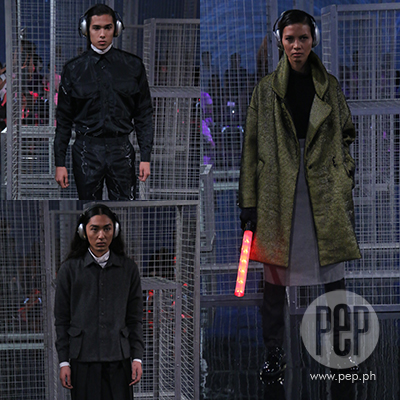 DARK PARADISE. A collection that characterizes romanticism, Dark Paradise was inspired by the melody of Lana Del Rey's ballads. Dark and romantic, it proves a shimmer of anticipation. Pieces show playful silhouettes mixed with strict lines, yet a sporadic artisanal approach maintains ease and comfort. Feminine shapes with a tinge of masculinity blended with colors ranging from black to off-white, these pieces possess unique materials of heavy crepe to silk organdy. Herringbones and wool for the modern man, these are fused with black and blue accents.
Mark Tamayo brings an exhibit of revived glamour to the runway.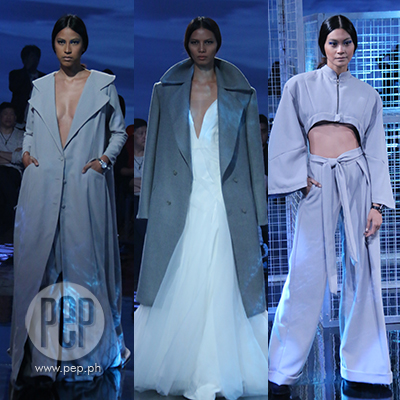 ADAPTATION. A collection that adopts a mix of the old and the young; it is inspired by elderly traditions. Ready to wear, comfortable, yet purely luxurious, these pieces also hold somber feels. New designs and unique styles, they evoke a dutiful emblem. "ADAPTATION" is a tribute to his grandmother.
Ziggy Savella brings warmth and refinement to the runway.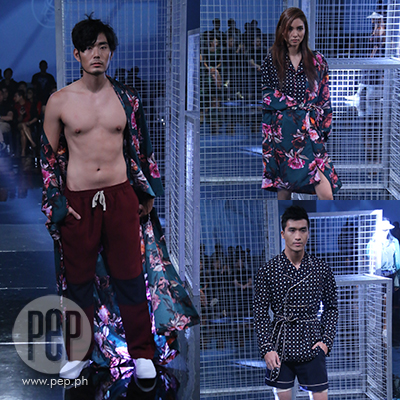 SECRET GARDEN. A collection that strays from the conventional way of dressing inspired by blissful images from the film "Picnic at Hanging Rock". Schoolgirl captures a cool twist with pre-Raphaelite tresses. A mix of lightness and restrained silhouettes from flattering collars and ruffled sleeves, comfortable yet relaxing- dressed down but dressed well.
Vania Romoff brings a brand of eased mood to the runway.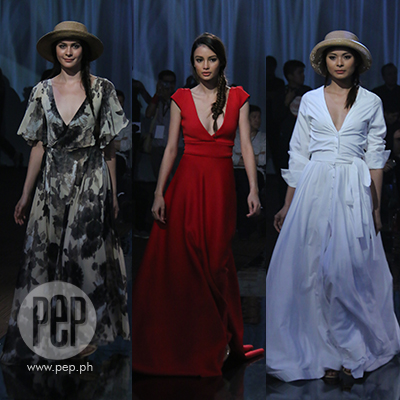 ALTA. A collection that appreciates feminine charm, "Alta" was inspired by the unveiled elegance and effortless presence of women. These pieces exhibit the poise and pure magnificence of the women of today, and a single glance will surely captivate you as they enchantingly glide across the room.
Jaz Cerezo brings graceful taste to the runway.