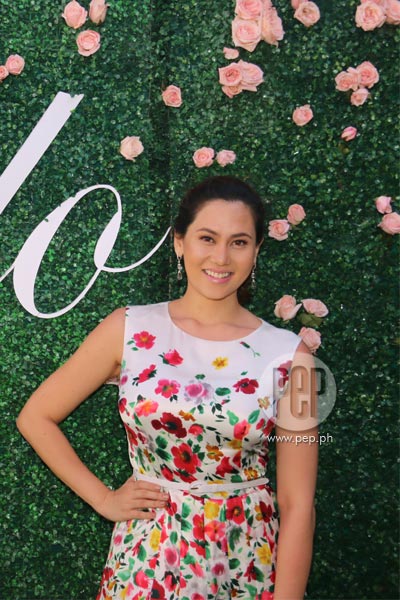 IMAGE Mark Atienza
---
The Belo Medical Group kick-started its year-long 25th anniversary celebration with its first ever Belo Polo Cup held last Sunday, March 29, at the Manila Polo Club.
Cristalle Belo, the lady behind Belo Essentials, related how the company arrived at the decision to hold the Belo Polo Cup 2015.
"We went to a cup in Thailand, and it was just gorgeous and beautiful.
"Belo is celebrating its 25th year, and we wanted to do something different."
It so happens that the 31-year-old businesswoman does not only love horses, she also rides.
She said, "My mom used to ride when she was a child so we felt that it's really close to our hearts, and it's something my lolo loved to do."
The Belo Polo Cup 2015 featured Team Dubai versus Team Philippines.
Cristalle added, "If you think of something different, if you wanna do something different from our usual parties, for Belo 25th, what could it be?
"I'm always in Polo Club just riding horses, and I just love watching them.
"I think they are such beautiful creatures!"
About the game of polo, however, she nonchalantly admitted, "I honestly don't understand much about the game!"
So what does she understand?
Honestly, "The Argentinian boys! Yeah, yes, yes we understand them.
"It's a Dubai team, but the players are Argentinian!
"So, yeah, I understand Argentinian boys, so it's really fun, it's a different setup, it's like an easy day.
"It's a Sunday, and a beautiful party after."
Big-name stars like Regine Velasquez-Alcasid and Gary Valenciano sang at the after-party.
ADVERTISEMENT - CONTINUE READING BELOW
Cristalle recounted, "I think it's so pretty seeing people in Sunday dresses and pastel colors.
"It's an apt way to kick off two things: summer and, of course, our 25th anniversary."
VIEW PHOTOS 25 beautiful things at Belo's 25th anniversary party
YEAR-LONG CELEBRATION. The company's actual anniversary is still in August and the Belo Polo Cup is just a chunk of the whole pie.
"We started and kicked it off with an ASAP segment three weeks ago and then this, and then a Showtime segment, and we have so many segments going on. It's a whole-year celebration."
Add to these, they have new machines, such as the Picosure, which Cristalle explained "is a really, really expensive machine and we are the first in the country, it's a breakthrough machine abroad.
"We recently bought it, and if you look at our IG [Instagram], you'll see so many endorsers trying it out."
Belo Essentials recently launched its new products this 2015— the Kojic soap, lotion, and face cream with Sarah Lahbati as the face of the campaign.
Cristalle then added, "On top of that, we are launching a secret endorser.
"Hindi pa pala nalo-launch. Secret endorser for Belo Men..."
She named him, but off the record so as not to preempt his launch.
Although the teen actor already is an endorser, Cristalle shrugged it off, saying, "He's not yet [part of the] Belo Men, the products."
Exciting times seem ahead as she blustered, "On top of that, we have an underarm cream campaign coming up with Anne [Curtis]."
ADVERTISEMENT - CONTINUE READING BELOW
After 25 years, has Belo's share in the beauty industry pie gone bigger?
Cristalle remarked, "We have all these foreign, multinational giants that we're playing against.
"But this year, we just recently won a Watson's supplier of the year award in our category for Belo Essentials and we're looking forward...
"We're the fastest growing, I think, we're the biggest sunblock in Watson's, there are so many things that are happening that are positive.
"With that, no pressure really to take on the giants because we don't have their budget, but just to make a mark that the Philippines can create quality products."
While she is cognizant of the fact that they have the country's biggest stars on board, she stated, "It doesn't end with stars, it ends with placement in the supermarket."