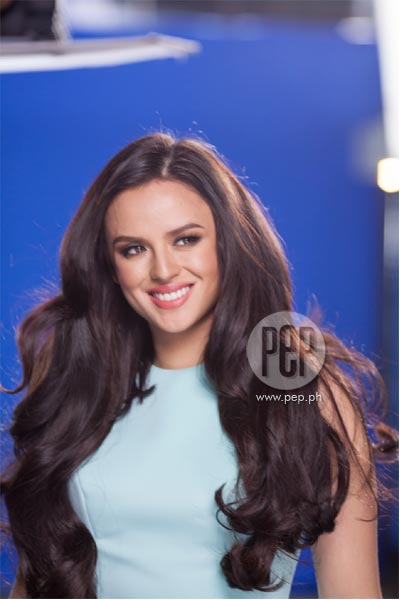 IMAGE Emerson Leonor
---
On top of Georgina Wilson's hosting duties in Asia's Next Top Model, she is bagging new endorsements nearly every month.
Yet, she seems to be of two minds about her string of successes. She wants more and less at the same time.
Georgina tells PEP.ph (Philippine Entertainment Portal) in a recent interview, "The funny thing is, I always tell whoever, 'I'm so busy, I don't know when I can relax or do whatever I wanna do.'
"But the truth is, I do it to myself. I make myself that busy."
She says there is a part of her that likes being occupied all the time, because "then I feel like the rest is so well-deserved.
"I don't like not being busy and not finding purpose. It's so rewarding to be working on things that I care about."
FINDING HER PASSION. George, her nickname, is currently involved in so many projects running simultaneously.
But this is not to say she is not picky.
She says, "When I am busy with something, it's something that I care about.
"Especially at this stage of my career, if it's not a project that I believe in, if it's not a project that I feel is worth my time, I feel I have a lot of other things I should be doing anyway."
As an endorser, Georgina has a few requisites.
"At this stage in my career, it's really important when I do attach myself to a brand, it's because I believe in the product, I believe in what that stands for, and I also think that it suits me."
ADVERTISEMENT - CONTINUE READING BELOW
She relates this to seeing her younger self in the Asia's Next Top Model contestants.
"When you start off as a model, you're not so sure who you are, what you're doing, it's basically anything like I'm ready for everything.
"And when you get older, you really start narrowing it down, 'That suits me, that doesn't suit me.'
"And you understand yourself better and, I guess, I find time to do things that I'd like to do and what's important to me.
"It's really important to me that I, to feel good about myself, it's part of the business so I do work out a lot."
TIME MANAGEMENT. She admits that juggling her schedule is hard at times, particularly her workouts.
In order for her to get into her new routine, she'll have to give up something.
She points out, "I think, if anything, I need to stop sleeping late and probably get off the Internet, and stop reading PEP so much, sleep earlier.
"I'm always on PEP and StylebBible, I should get off Instagram, get off the websites, and maybe sleep a bit earlier and wake up a bit earlier. That would increase productivity!"
We tell her, by all means, increase her productivity while keeping up with her daily reading of PEP and stylebible.ph.
She lets on, "I'm just thinking what's new for today, take a selfie!"
Commenting on her #OOTD posts that look effortless, George says with a sheepish smile, "Let's just say that the people who see me in events and the people who work at the Sunnies office see two very different Georginas.
ADVERTISEMENT - CONTINUE READING BELOW
"People at the gym see another Georgina.
"Part of my business is to look good, get ready, and it takes a long time. Doing hair and make-up, it's a long process!"
FUSS-FREE. Georgina uses her experience on quick-change to advice young girls who are constantly obsessing about their looks.
She shares, "For me on normal days, it doesn't matter to me, I don't need to look that way.
"Like there's that Georgina and then there's the Georgina that is very, if anything, very dressed down, no make-up, my hair is always wet.
"My cousin Martine is pissed at me that my hair is always up, and I always just wanna shower it, and then just go, like not waste any time, which is not healthy, like I have a lot of habits I need to change."
Her cousin Martine Cajucom always asks her to take just five minutes to dry her hair because as, George relates, "I always look like a wet dog everywhere, she says. I need to start working on that!"
How long does it take for her to get ready?
"On the days that I have to go to the office or go to the gym, I can be very honest and say it takes me ten minutes to get ready.
"But then in shoots, where I have to prepare, maybe an hour.
"I'm working on making that a 15-minute routine, that sweet spot where I don't look like I just woke up, there's a bit of effort and where my hair looks presentable."
ADVERTISEMENT - CONTINUE READING BELOW
She says that is why she is really after products that work in themselves, "I don't like putting in that much effort.
"The products need to do their job, I have too many things on my mind to think about what they need to do."