Part of Kiana Valenciano's things to do this April is expand the scope of her BLOG from fashion to lifestyle.
She excitedly reveals, "There, you'll be able to see my covers, my travels, my fashion."
For the summer-themed Belo Polo Cup, where PEP.ph (Philippine Entertainment Portal) spotted her, we asked about her OOTD (outfit of the day).
She says, "I'm actually wearing a vintage top of my mom.
"It was her bathing suit when she was my age. That's why she can't complain because I'm like, 'It was yours before!'
"And the skirt is by Ryan Madamba. I called him last minute to ask if I could borrow a skirt."
We compliment her chic outfit choices, especially during the Tagaytay wedding of her older brother Gab to fashion blogger Tricia Centenera.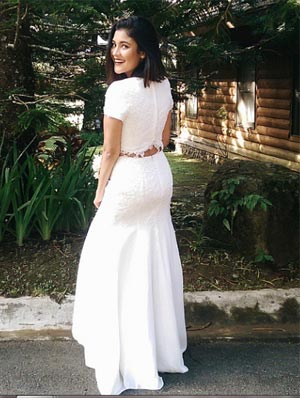 Photo: @kinavee on Instagram
She comments, "Tricia actually made sure that all the bridesmaids look different because she wanted everyone to be comfortable.
"So she chose the design for me with Francis Libiran and I loved it, obviously because it was very young.
"It's my style—cropped top, long skirt.
"So if you scan through the photos, we were all dressed separately because everyone went to a different designer or got their dress somewhere else."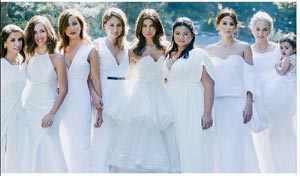 Photo: @triciacentenera on Instagram
The white top looked especially flattering on her, we tell her, and she jokes, "It's hard, I was actually talking to Sam and we were both laughing because I said, 'I'm going to overuse this top.'
"I'm gonna use it whenever I can because it's so pretty!"
Sam is Samantha Godinez-Valenciano, her childhood friend and also brother Paolo's wife.
Now that her brother Gab is married, we ask her to spill some behind-the-scenes stories that we might not have found out even with our coverage.
She smiles and says, "What don't people know?
"I feel like everyone pretty much knows everything!
"Tricia was a very relaxed bride throughout like the whole planning process. She was just like, she didn't really… she wasn't very stressed out so much, which was really good for her.
"I feel like everyone except for the bride was stressed. That's good for her.
"She was blooming. You could see she was blooming on the day of the wedding."
WELCOMING HER NEW "SISTERS." We're curious how one gets initiated into the Valenciano family. Is there a special sister-in-law test that Kiana makes them undergo?
Kiana admits, "With Tricia, I made sure to get to know her.
"I didn't really go out of my way to talk to her and be like, 'Hey, you gotta take care of my brother!'
"Because right when I met her, I knew that she would. She has that kind of a personality where she doesn't… you know she's there with good intentions and her actions, she's just a great woman.
"The first few weeks I met her, I was a little shy, which I think is normal for a younger sister to be like that with an older sister."
She explains further, "With Kuya Pao's wife, I've known Sam since we were born, she's been a part of the family forever.
"With Tricia, I was a little shy.
"I saw her before in events and I met her before naging sila, but it was so fast, once she and I got to talk, I was like, 'Oh wow, I like this girl for my brother!'
"She's very nice and she understands everything. She's an ate."
Kiana then adds something very nice about Tricia, "I treated her like an ate.
"She knows everything about me—all my secrets, everything.
"She gives me great advice. I'm just really glad now to have not just two kuyas but two ates as well."
For Kiana, there were two special moments during her brother Paolo's wedding.
She reminisces, "One was when we surprised her with a song, at the reception. It started with Kuya Pao and I, we sang 'Fix You' as they did their first dance.
"And to see them get emotional while we were singing, it was a nice feeling that we were able to be a part of that.
"After that number, my cousin and I surprised her, and it was kinda our way to say welcome to the family. Those two things were special for me."
PRESSURE. Now that all but one Valenciano child is settled down, does Kiana get pressured at all?
She confesses, "Actually, there is a little pressure.
"But only, I'm not pressured to get married. I'm just pressured because everyone is like just looking at me, saying, 'You're next!'
"Or, 'When is it gonna be?'
"It's pressure because in my mind, I'm only 22, guys.
"I have no plans. I still wanna pretend I'm the baby of the family. Just give me a little more time to do that.
"If anything, I've been getting pressured because people have been asking me but that's all that there is. There is no way I'm getting married soon!"