Manny Pacquiao is now flying high.
Well, an image of him at least.
Look to the skies and if your eyes are really good, you'll see the Pambansang Kamao rendered in the national colors on one of AirAsia's A320 engines.
Maan Hontiveros, Chairman of AirAsia Philippines, half-jokingly remarks that Pacman can fly on this plane any time he wants, "We'd love to, I think we would make the plane available to him, he can treat it like his plane!"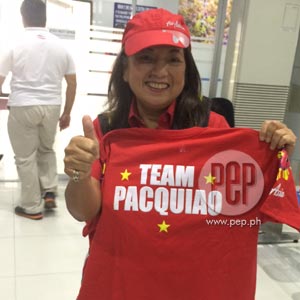 The Airbus-320 can comfortably seat 180 passengers, so that should be enough for Manny's family and entourage.


Here are other cool things we found out about this special edition livery created for Manny Pacquiao:
1. The livery had to be done in France, so they flew the plane out there, working on it for one whole month.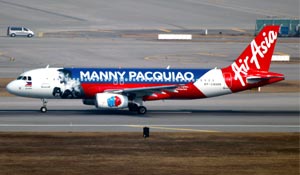 What's a livery, you say? For aircrafts, it basically describes the paint scheme on the body outside.
The Manny Pacquiao livery, while part of a marketing deal highlighting the May 3 Pacquiao-Mayweather fight, will stay in place for one year.
2. Manny has yet to fly on "his plane" but according to Hontiveros, "he's actually flown on our planes, but not yet on this one."
For the Macau fight of Pacman, AirAsia let him use two planes for himself and his entourage. That's a lot of Pacman love right there.
3. Manny actually had to approve the livery.
Hontiverros relates, "We needed his sign-off on it, of course, but it was primarily to honor him.
"We are the first airline to put people's images up on the aircraft."
AirAsia Malaysia has also done it for Taylor Swift, remember that one?
4. AirAsia Philippines is the first in the Philippines to create liveries.
It was for Solaire Resort and Casino "to promote the Philippines as a gaming destination" in Asia.
5. Pacman is the first person image that AirAsia Philippines has put up in the air.
6. The company's founder and Chief Executive Officer Tony Fernandes said he even wanted the inside of the plane to reflect the look and feel of Manny Pacquiao's training gym.
7. All the merchandise related to the livery will be available all-year round. There's a polo t-shirt bearing Team Pacquiao and AirAsia markings, a cap, and an A-320 model bearing the Manny Pacquiao livery.
Hontiveros says that win or lose, "Manny has already made it for the Philippines and, therefore, we think that it's an honor for us actually to hold his image on our livery."
She adds, "Pacman is a self-made, he's a man of the masses, in spite of the heights that he's gotten up to, he's still very humble, and I think he's a perfect partner for us, because that's what we aspire to be."
So if you do happen to fly on the Pacman plane, especially between now and May 2, 2015, keep alert as AirAsia Philippines is giving away free tickets to the exclusive live AirAsia viewing party of the Battle for Greatness on Sunday, May 3, 2015, at 8 a.m.
Depending on where you're flying to, you could get free tickets to watch the fight live in the following venues: SM Mall of Asia Centerstage Cinema, Regency Hotel in Boracay, New Cebu Coliseum in Cebu, USEP Gymnasium and Cultural Center in Davao, and Nazareth Gymnasium in Cagayan de Oro.