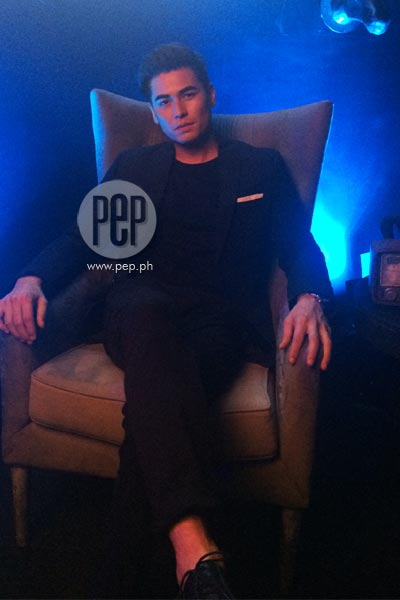 IMAGE Kaye Estoista-Koo
---
Aside from his endorsement deals, Fabio Ide is trying his hand at different businesses, like investing in restaurants and bars.
He is also one of three AXE Black ambassadors, alongside Frank Magalona and Victor Basa.
In an interview with PEP.ph (Philippine Entertainment Portal), he talked about fatherhood, being an AXE Black ambassador, and the Pop Up Bar he calls the Block Party.
Fans will get the chance to experience Fabio's Pop Up Bar as it goes around the metro from June to August. It is the only one with live music performed by a sexy lady on a saxophone.
He explained: "Like a Block Party in the U.S., here, it's all about coming together, with different kinds of liquor, different music, not the typical EDM [electronic dance music], because it's gonna be jazz."
CONFIDENCE. As the new AXE Black ambassador, he was asked to describe himself.
"I am very understated, I don't have to be over the top to be confident."
Even as an actor and businessman, he said, "You don't have to be flashy, you don't have to portray yourself in a way na people look at you and say, 'Oh my God, that's too much.'
''I can be simple, light, and still have a good time."
If he were to liken himself to a scent, he would be suwabe.
"I like smooth, mas gusto ko yung suwabe yung fragrance, hindi yung sobrang malakas or matamis."
JOYS OF FATHERHOOD. Fabio became a dad recently.
He admitted that he is still adjusting, trying to find the balance in being a dad, actor, and businessman.
ADVERTISEMENT - CONTINUE READING BELOW
He shared, "It's really hard.
"No matter what kind of schedule I have, I make sure that I spend time with my baby at least once or twice a week."
It hasn't been easy finding time.
Fabio revealed, "I have so many businesses, and they're all happening at night. Then I have my tapings, my shows during the day so it's really hard to do everything at the same time.
''I also have to make sure I get enough rest."
He admitted that he hardly sleeps to make sure he has time for everything on his plate.
"Sometimes, I try to get some shuteye after I come from an event or wedding, or I sleep on the way to another gig.
''As long as you do it with passion, with heart, even though super pagod ka, you can pull through. It's tiring but it's good, it's good."
Fabio said that becoming a father has made him a better person.
"Everything for me is new. Every time I'm with my daughter, I really experience something new talaga.
''It's something so pure, so beautiful. No matter how tired you are, looking at your baby, holding your baby, seeing her smile, hearing her say 'Papa' for the first time..."
Fabio smiled from ear to ear.
"All these little details make you realize, 'Oh my God, I'm a father. I'm a proud father!'
''And despite what happened in the past, she is the most precious gift I've ever had. It really makes you become better, more mature as a person, as a friend."
ADVERTISEMENT - CONTINUE READING BELOW