ADVERTORIAL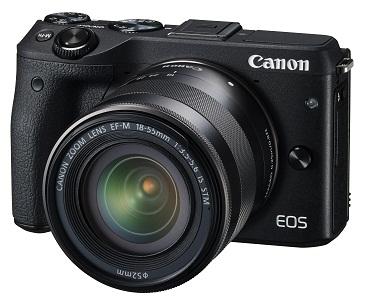 In today's digital age, snapping a photo when you want to capture your favorite moment or memory has become as easy as point, swipe, or click.
One look at your favorite celebrity's social media will show how easy it is to capture those precious moments.
Whether they do it with their cameras or phone cameras, what matters is being there for the right moment.
Celebrated Preview photographer and Canon brand ambassador Raymund Isaac knows all about the right moment, composition and lighting.
And with the right lens, he gets to immortalize on print the look and vision he has for the fashion magazine's cover girls.
Now, with Canon EOS M3, while you probably won't become a Raymund for a long time, you can indulge in that favorite pasttime of Pinoys, stalking your favorite celebrity or playing paparazzi.
Imagine snapping your idols and using a camera that got leveled up with the Canon's mirrorless camera feature.
In Canon's third generation range of cameras, the mirrorless camera is placed at the forefront of the Canon EOS M line. The Canon EOS M range of cameras combine the performance and versatility of a DSLR with the portability of a compact camera.
It's having the power of the Hybrid CMOS AF III technology combined with the EOS M3 features fast AF speed and a 24.2-megapixel CMOS sensor working in tandem with the latest DIGIC 6 image processor.
You know what you'll get? Superb image quality that's complemented with the most compact lens in the EF-M range, the pancake EF-M22mm f/2 STM Silver.
We found out from Vinchy Sanchez, Canon Philippines Marketing Director for Consumer Group, that the outstanding image quality, compact body, and compatibility is available in over 70 EF lenses and that "the Canon EOS M3 is designed for wide appeal among advanced and amateur photographers."
So while amateur photographers won't land that cover gig on the nation's top magazines just yet, you still value high quality images, and being familiar with the versatile features on DSLR cameras, desire a compact-sized camera.
And according to Vinchy Sanchez, "the EOS M3's impeccable performance will definitely enhance their work."
High Speed AF ensure key moments are captured
The EOS M3 is also equipped with the newly developed Hybrid CMOS AF III technology.
Those big words mean that the AF elements are optimized on the CMOS sensor to auto focus during live view shooting. And it's approximately 6.1x faster than that in the EOS M[1] (equipped with the first generation of Hybrid CMOS AF technology), making it the highest AF speed in the EOS M class.
With that, if you're shooting quickly and under pressure—perhaps you want to make sure you get a nice photo of your favorite celebrity as they're rushing out or stepping out of a restaurant or event venue—you can be guaranteed faster and precise AF and a better user experience. This increase in
---
[1] Calculated from AF time results conforming with the CIPA guidelines (results will differ according to shooting conditions and lenses used). Test conditions - Exposure amount: using LV11, shooting mode: P mode/one-shot AF, single-point AF, Continuous AF [Disable], EF-M18-55mm F3.5-5.6 IS STM lens, with a focal distance of 18mm.
AF speed is crucial in order to swiftly snap images in clear focus without missing out on key moments.
This comes in handy when you're looking to capture moving subjects. And it's not just for your paparazzi moments! If you have a pet or active kids, you'll appreciate the improved AF speed as it captures every tiny moment you would have missed otherwise.
Impressive image quality with 24.2 MPS and DIGIC 6 Image Processor
Aside from the improved AF speed, the newly-designed 24.2-megapixel CMOS sensor is paired with DIGIC 6 image processor, Canon's most powerful image processor to date, setting a new benchmark in Canon's mirrorless camera image quality.
It's like this: even without a flash or tripod, if you're working in low-light, you can make rich natural colors come out on the EOS M3 due to its high ISO speed performance.
This is because the ISO speed ranges from 100-12800 and is expandable to 25600 where higher light sensitivity is required.
Despite the high ISO speed performance, the DIGIC 6 image processor is excellent in controlling image noise at higher ISO settings.
Intelligent Design
So Canon equips you with the best technology and partners it with a design that works for you.
The best example in the mirrorless range is the incorporation of a tilting touchscreen LCD which flips 180 degrees upwards to assist with low angle shots or selfies, and 45 degrees downwards for high angle photography.
Nicely-shot selfies and OOTD posts are synonymous with many of the top fashion bloggers and social media netizens.
And Canon understands this modern reality as it fuses the intuitive touch panel with a sophisticated user interface (UI) that blends the best features from both EOS and compact cameras.
So for users familiar with DSLRs, they can quickly adapt to the EOS M3 as the UI displays all necessary information required by professional photographers.
The unique two-handed touch style of the EOS M has been further enhanced and gives quick access to various settings.
The EOS M3 also caters to users who may prefer to operate with a viewfinder instead of the Live View LCD. The EOS M3 is the first of its class to accommodate an EVF with the optional EVF-DC1 electronic viewfinder.
Because it is packaged in a mirrorless camera size, the EOS M3 body inherits the EOS philosophy for a sophisticated design that makes shooting an enjoyable process.
The user-friendly grip on the EOS M3 allows the photographer to concentrate on shooting while maintaining a firm one-handed operation.
Notice how sometimes the index finger looks awkward when shooting? Canon thought of placing the shutter button on a smooth curved surface so the index finger can rest comfortably when shooting.
This is paired with an exposure compensation and mode dial placed around the shutter button to create a comfortable and holistic EOS shooting experience.
It also comes with a built-in flash. The hot-shoe capability allows for advanced Speedlite flashes or Speedlite transmitter to wirelessly connect to a separately mounted flash, expanding the range of photographic expressions.
If you find yourself at close range with your subject (like you are inches from your favorite celebrity), the macro ring light evenly projects light around your subject.
Creative play on expressions
In Creative Assist mode, aperture, exposure compensation, contrast, colour saturation, and white balance can be adjusted via sliders with user-friendly terms such as Blur—Sharpen, Darker—Brighter, etc. You can switch from selfie mode, to OOTD, to shoefie, to a food post just like that.
Users can change parameters in real time to achieve the desired look for the image before committing to the shot.
Effortless mobile connectivity for easy sharing
And with the advanced Wi-Fi capability, your favorite photos can instantly be transferred to a smart phone or a printer for wireless printing.
You can access your photos from social media sites via Canon iMAGE GATEWAY (CiG) or cloud storage and PCs via Image Sync after uploading.
Or you can simply use the Near Field Communications (NFC) technology which, with the tap of the camera to the NFC-enabled smart phone, launches an app for transfer of files via Wi-Fi.
Product Specifications
EOS M3
Dimensions: Approx. 110.9 x 68.0 x 44.4mm
Weight: Approx. 319g (body only) 366g (includes battery and memory card, CIPA standards)
Image sensor: 24.2megapixel APS-C CMOS sensor
Imaging processor: DIGIC 6
ISO speed: 100-12,800 (expandable to 25,600)
Continuous shooting speed: approx. 4.2 fps
Maximum video quality: 1920 x 1080 Full HD, 30fps
AF: Hybrid CMOS AF III
Wi-Fi: Yes, NFC-enabled
LCD: 180/45 degree tilt touch panel LCD – approx. 1.04 million dots