Did you know that one out of two Pinays has dry and sensitive skin?
Hopefully, it isn't you with such a skin problem.
But how can you be so sure?
If you often get skin reactions such as pustules or bump or erosion; if you feel stinging, burning or flushing skin sensation; or it looks flaky, sorry, you have a sensitive skin.
(Warning: if you are literally sensitive, you may not like these images.)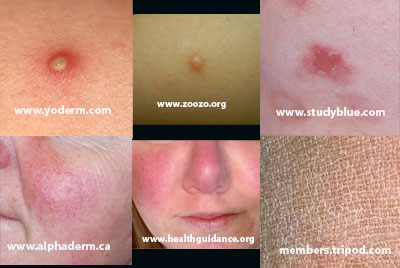 This means either you have allergies or you can't wash and exfoliate your face a lot or you can't be exposed to environmental stress.
The chairperson of the public relations committee of the Philippine Dermatological Society, Dr. Ma. Teresita Gabriel, also warned that a "crack" should give you alarm bells.
In a one-on-one interview with PEP.ph (Philippine Entertainment Portal), she said, "…if your skin cracks, everything enters.
"What you are usually not sensitive to, like the usual soaps that you use, because you already have the damaged skin, you become sensitive already.
"So, you have to address it from the cause.
"The initial cause is having a dry skin. Then, that dry skin gave you a sensitive skin. That dry skin made your skin cracked.
"So you are now sensitive to the usual, the soaps that usually you are not sensitive three times that a normal skin will not be sensitive to because your skin has cracks.
"So you become already sensitive to all these things."
Patti Grandidge went through such problem, which took a toll not just on her skin but on her level of confidence as well.
At the launch of her latest endorsement last July 15, at the Rizal Ballroom of Shangri-La Makati, she told PEP.ph (Philippine Entertainment Portal), "I mean, having the dry and sensitive skin, made me insecure because, you know, in this industry, of course, a lot of it is based on looks.
"First impressions really do last.
"I would be really self-conscious and just kind of mindful, I would wonder, you know, what people would think of me because they see me in magazines.
"They used to see me on TV. They've seen me on billboards.
"And then, if an image doesn't match real life, sometimes it's embarrassing, right?
"So I would get really insecure about that."
WHAT TO DO? The model/host/baker/sntrepreneur spent about "six to eight months" looking for the right product.
The first two words to look for, according to Dr. Gabriel: hypoallergenic, which helps reduce the possibility of an allergic response, and non-comedogenic, which does not block pores.
The dermatologist resumed, "…you have to use a mild soap which is, as I've said, they termed it pH-balanced.
"So the pH is supposed to be somewhere between 5.5 because there are soaps that are really alkaline-based and would really irritate you skin.
"There are also soaps which are acidic, very acidic. Low pH, which will also irritate your skin.
"So basically, the soap, whatever you're using, should be hypoallergenic, should be non-comedogenic.
"Non-comedogenic doesn't give you blackheads from use. Yes because there are some products that when you use, because of the thick base, will give you acne or comedones. Comedones is the same as blackheads."
Patti found a friend in Physiogel, which has this "BioMimic technology, which repairs the skin barrier function."
Simply put, it strengthens the skin moisture area.
To those who never had to deal with sensitive and dry skin, hey, according to Health.com, "sensitivity—which affects 56% of us—increases with age. Skin becomes, on average, 10% drier each decade after the age of 20."
Hence, that technology is important because if the cellular barrier becomes weaker, the less moisture your skin retains and the more irritants can get in.
Besides, Glaxo SmithKline's product is "pH-balanced" and as Dr. Gabriel said, "It won't irritate even the children's skin."
PATTI'S BEAUTY REGIMEN. Aside from the brand she endorses, Patti's routine includes:
1) Definitely hydrate.
"I drink one big glass of water when I wake up, and a big glass of water before I go to bed and throughout the day. So, hydrate with water.
2) Taking off your make-up is huge.
"In this industry you just wear a lot of make-up and you got to take it off.
"You got to let your skin breathe."
3) Wash your face every morning and every night.
"Know that you have to have not just a regimen but also a discipline."
4) You moisturize your skin after that.
To these, GSK Philippines' Marketing Director Gikki Martija added that you're not alone in this journey.
The brand's FreeInMySkin website helps boost the confidence of women.
Take its Freedom List quiz, and discover your true strength.
The quiz assessed Patti as a "charismatic motivator."
When asked if the description was correct, the Physiogel endorser answered, "My friends, they say that I'm a motivator."
She added, "They say after that they talk to me, I don't know, they spend time with me and they're like, 'I feel motivated to do this or that.'
"So I think I'm just always kind of encouraging people.
"I'm always, you know, making people feel better and making people feel like they can reach those goals and you know, reach the full potential."