ADVERTORIAL
1. INVOLVE YOUR CHILD IN YOUR HOBBIES/INTERESTS
For Barbie Almabis, nothing beats the feeling of being able to share her passion for music with her kids.
"I have been fortunate to make my career a part of our family life as well. Stina and Liam have both enjoyed music since they were very young.
"They love singing and making up songs. It's normal for them to suddenly 'break into song' in the middle of playing.
"I just started teaching them piano lessons, but they are also interested in trying out different musical instruments."
2. GET CREATIVE WITH DO-IT-YOURSELF (DIY) PROJECTS
Growing up, Barbie recalled that she loves "drawing and making crafts."
Now that she's a parent, she wants her kids to develop creativity by getting them involved in DIY projects.
It can be as simple as molding colorful numbers made of play dough, which Barbie and her kids use to play Numberjacks.
Numberjacks is actually a kiddie TV show that features Math games suited for children aged three years old and above.
3. TRAVEL AND EXPLORE NEW PLACES TOGETHER
Barbie revealed that swimming is a big part of her life because she grew up a few minutes away from the beach in Roxas City, located in the province of Capiz.
"We want the kids to be able to swim well too because it's a very important skill especially because we live in an archipelago.
"Visiting my family in Roxas City—which we do yearly—is always a treat because we get to be on the beach everyday or go up the mountains near our house," Barbie mused.
Even when her children were younger, Barbie has always allowed them to take a dip in the beach and build sandcastles under her supervision.
She doesn't worry too much about Liam getting into contact with dirt as long as he cleans up afterwards.
As it is, playing outside not only helps build your child's immune system but it also provides some form of exercise while having fun at the same time.
4. GET THEM ACTIVE THROUGH SPORTS AND PLAY
Encouraging your child to play sports is a great way to cultivate the value of teamwork, physical strength, and social skills.
"Living in Metro Manila has its limits when it comes to outdoor play, but we do walk/run around the village together and do outdoor activities like swimming," said Barbie.
Most recently, Barbie and her husband Martin Honasan took their kids ice skating for a Frozen-inspired adventure.
5. DISCOVER WHAT THEY'RE GOOD AT. Barbie believes in exposing one's child to as many interactive activities as possible for a #LakingAmazing childhood.
It's not only an ideal opportunity for play time but it also enables a child to pick up new skills.
Puzzle solving and building blocks for instance help reinforce critical thinking, visualization, creativity and fine motor skills.
In the case of her kids, Barbie shares that Stina and Liam both have enjoyed playing with puzzles and Legos since they were three.
"Being hands on also keeps us attuned to their interests and talents, so we can focus on letting them grow in what they love doing.
"[My kids are involved in] a lot of music-related activities like singing and dancing as well as tinkering with their hands like drawing and painting."
6. SET A GOOD EXAMPLE. Barbie also shared that she and her husband make it a point to nurture a loving atmosphere at home to reinforce good core values in their kids.
"Working on having a good relationship with my husband helps the kids be secure.
"Teaching them about God through our words and how we live helps build their character too.
"Pray for them, be a constant source of encouragement, speaking words that will build them up, teach them to be kind and loving towards others," she added.
7. KEEP THEM PROTECTED THROUGH PROPER NUTRITION.
These activities and tips from Barbie can help cultivate a great environment for your children.
In order to make sure your children have an amazing childhood, remember to ensure proper nutrition and protection for your child.
Barbie believes that having her children drink growing-up milk is the first step to keep them healthy and strong.
"Their health and well-being is a priority, so we make sure they eat and drink healthy and get plenty of exercise," she said.
For her four-year-old son Liam, she trusts NIDO® 3+, the only milk with Lactobacillus PROTECTUS® on top of essential nutrients.
Lactobacillus PROTECTUS® is like an army of good bacteria that helps build body defenses. Learn more about this Amazing Tale video on Laking Amazing Site.
With the help of NIDO® 3+, you can also be sure your children are protected and equipped to keep them healthy and strong as they grow, explore, discover and learn.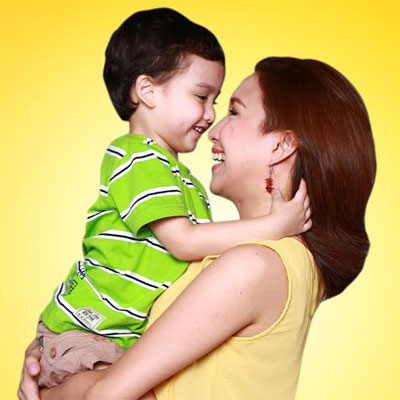 Get your child to experience a laking amazing childhood by logging on to Laking Amazing Site.