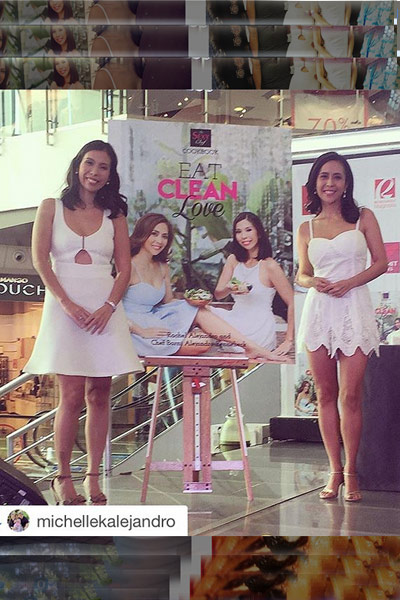 IMAGE @michellekalejandro on Instagram
---
Singer-actress Rachel Alejandro and her sister Chef Barni Alejandro-Rennebeck never imagined their small business would be widely popular that it is today.
In fact, The Sexy Chef, the mom & pop diet food delivery service they started 11 years ago, is now Manila's top diet and health food provider.
Moreover, the sisters have just released their second book Eat Clean Love under Summit Books, which promises to be as successful as their first.
Rachel shared the cookbook has 60 brand-new recipes that she herself concocted, "I was more involved, I shared more tips, I shared more of our personal experiences and what works for us."
Here are five new things we learned from their book on the proper ways of dieting:
1. Calorie count is not the only thing that matters.
"I am gonna tell you the honest truth," Rachel began. "When it first happened, we were the pioneers and obviously for such a long time there was no competition and we had a corner on the market.
"Biglang all of a sudden mayroon na isa, mayroong dalawa, and they priced themselves sobrang cheap, we were curious."
According to Rachel, she and Barni decided to check out what the competition was offering.
They ordered and sampled not just one but several from the suppliers, and they realized, "A, kaya pala it's much cheaper than ours.
"While it may be pasok in the calorie count, most of the other diet food delivery services, they don't naman offer the other programs."
The sisters were aghast at finding hotdog, spam, bacon, and even little native delicacies among the oferings of competition.
"Kinompute lang and what people kasi don't know is that it's not just all about calories.
"They think, 'Basta nag-1,200 calories na ako, papayat na ako niyan and at least it's mura.'
"Ang hindi nila na-rerealize, certain foods that have chemicals and preservatives cause inflammation."
ADVERTISEMENT - CONTINUE READING BELOW
2. Inflammation, along with excess in calorie, causes obesity.
This fact was pointed to Rachel and Barni by their long-time partner, fitness/nutritionist/chef Nadine Tengco.
3. Eat Clean Love has something for everyone.
If you're busy and in quandary what to prepare for a quick and easy breakfast or for the kids' baon, the book has the easy recipes.
'Eat,' the first section, has three chapters that offer quick and easy breakfast recipes, good-tasting low-carb options, and "healthified" Filipino favorites.
Rachel elaborated, "You'll see that the recipes are actually things you already eat in the house like adobo, pastas, just cooked in a healthier way."
For the burn fat with breakfast recipes, the sisters teach how any busy mom or wife or even dad can prepare breakfast the night before.
The 'Clean' section featuring vegetarian and green smoothies recipes will delight the vegans. It is also Barni's favorite section.
The sisters value clean and real food, which does not mean they are encouraging women to be stick-thin.
Rachel joked, "If you want a burger, make it at home and use real ground sirloin. Don't buy it from fast food, you don't know what is in there."
For the green smoothies, the sisters suggest local greens such as kangkong as substitute for the pricey superfood chia. €
The last section 'Love' has wholesome kid's baon recipes (READ: no fried chicken, hotdogs, or plain red spaghetti here).
In the comfort food recipes, you'll find food recipes for hangover or food you want to eat on a rainy day but prepared with a healthy twist.
One section is dedicated to nutritious and guilt-free desserts.
4. Vegetables are the fastest way to lose weight.
Rachel explained, "It causes less bloating, easy to digest, it's perfect for right before a wedding or event where you wanna fit into your dress."
ADVERTISEMENT - CONTINUE READING BELOW
Rachel actually shed three pounds within the week she went vegan.
Barni remarked, "For some reason when you have a lot of dairy and meat, it causes, not for all, inflammation."
5. Do foods have to be gluten-free?
Rachel remarked with a laugh, "Gluten, it's the same thing kung isang bandehado.
"Kami kinakain namin 'yan as long as portion control.
"Kasi yung pasta, kahit whole wheat pasta 'yan kung sandamukal kakainin mo, tataba ka.
Barnie added, "People have this perception na it's bad for everyone when, in fact, it's only bad only for people who are sensitive or for those who can't digest it."