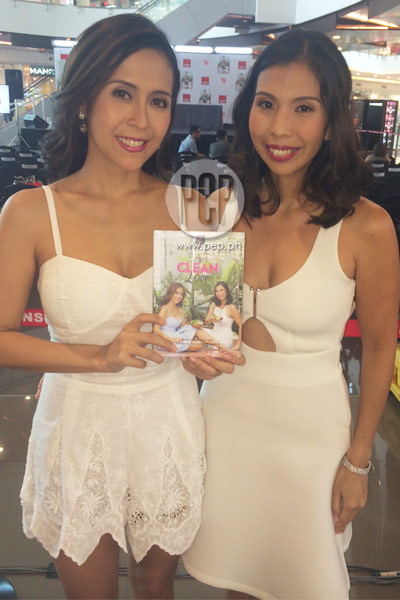 IMAGE Kaye Koo
---
Rachel Alejandro, author of Eat Clean Love, the second book from The Sexy Chef sisters, reveals what's in her bag every single day, regardless of whatever bag she's bringing.


"What's in my bag na hindi mawawala? I guess, my powder. Definitely my powder, 'yan na yung pinaka," she says.
Another essential is her cellphone.
"I cannot not be connected, as in.
"Even if malayo na ako, babalikan ko talaga [ang cellphone] kasi parang it feels like an appendage.
"Parang pag 'di mo hawak telepono mo, you feel..." as she feigns a sad face.
Rachel doesn't go for big bags, either.
"I don't carry a lot of things. I'm not that kind of person. I have a small bag."
Something to cover herself up is another essential for night-time dates or appointments.
"Lamigin ako, so kadalasan mayroon akong shawl or a jacket or a sweater kasi when I am in an air-conditioned place or when I go out for a movie, kailangan mayroon something to put on," she adds.
SECRET OF YOUTHFUL LOOK. The 41-year old music artist credits her youthful looks to dad Hajji Alejandro, also a singer, and her mom Myrna.
"We hope that's going to be the case for us when we get to their age," Rachel hopes.
She does admit to not doing anything extraordinary to maintain a beauty regimen.
"I don't do anything special. I have been using Moroccan argan oil for my skin pero this is just over the past few months pa lang. Prior to that, I never put anything," Rachel confesses.
She adds that maybe going to the gym helps.
"I try to squeeze in at least three times a week of training."
SUPERFOODS. As founder of Manila's top diet food delivery, The Sexy Chef, Rachel knows her good skin is a product of healthy food.
ADVERTISEMENT - CONTINUE READING BELOW
She reveals that lately, she's been following sister Barney's advice to put superfoods into her meals.
"So I buy avocados, chia seeds, flax, hinahalo ko siya. I have been making smoothies at home. And I eat a lot of vegetables, magulay ako kumain."