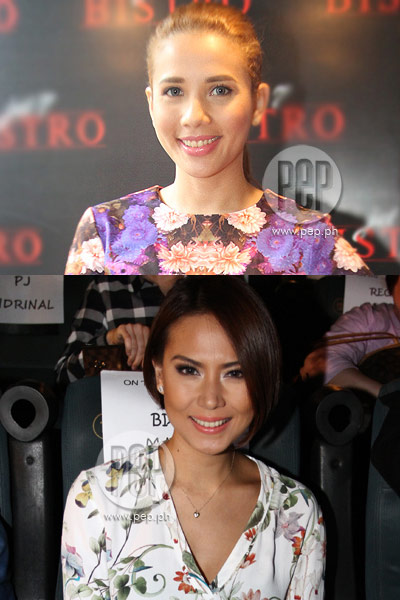 IMAGE Noel Orsal
---
There is no such thing as an easy breakup.
A person can't say, "Mas malungkot yung sa akin kasi matagal kami," or "Mas masakit yung sa akin kasi ipinagpalit niya ako."
The level of pain differs from one case to the other. It all depends on one's attitude.
For Bianca Manalo, a breakup is the best time to pay attention to oneself.
"Mahalin ko muna sarili ko ulit," she declared.
Rachel Alejandro averred "the down moments" can't be avoided.
"You feel sad, you feel alone, but it's normal.
"If the love aspect of your life is not going well, iwanan mo muna 'yan, dito ka muna."
Dito ka muna?
The singer explained, "Kung trabaho 'yan, maybe go after the goals na.
"Heartache is a perfect opportunity to dive into whatever it is you've been wanting to.
"It's all about making yourself feel like it's okay."
How?
Like Bianca and Rachel, Karylle, Venus Raj, Benjamin Alves, and Jon Lucas are heartbreak survivors. Here, they share how they picked up the pieces of their shattered hearts.
1. "Go through the pain."
That's from Karylle who is now happily married to Sponge Cola lead vocalist Yael Yuzon.
She elaborated, "Masaya naman talagang mag-swimming sa bitterness 'tsaka sa angst while it's there.
"To really feel it because you can't deny it either. It's a feeling you have to go through."
Rachel said she had known that feeling only too well.
Before she and her husband Carlos Santamaria tied the knot in 2011, their relationship was tested when he had to leave for abroad.
In an interview with Kaye Koo, The Sexy Chef author recounted, "We decided that it was best for us to break up because he didn't want, he didn't believe in long-distance relationships."
She could not find the right words to describe how hurt she was.
ADVERTISEMENT - CONTINUE READING BELOW
"You feel you've been abandoned or you've been rejected.
"Really, ang tinamaan doon is yung self-esteem mo, di ba...
"I wished the ground to swallow me and to never get out of bed.
"Kung gaano kahirap?
"You don't wanna get out of bed, you don't wanna go to the salon, you don't wanna fix up, you don't wanna do any of these things," Rachel went on, putting her one foot in front of the other.
2. Be with people.
Bianca who is now dating Fabio Ide advised, ""Surround yourself with friends who are going to make you laugh.
"Be with your friends, be with your family, be with happy people."
3. Travel.
Bianca underlined, "Travel while you can, at least single ka, wala kang pagpapaalamanan…"
A former flight attendant of Philippine Airlines, she packed her bag and went places to nurse a broken heart.
"I went to Dubai, I went to Amanpulo, I went to Bali all by myself.
"Single ako noon, nag-enjoy ako, na-enjoy ko siya na, 'Ah, heto pala yung feeling, na masaya siya.'"
Karylle, on the other hand, retreated to Baguio City.
4. Do something productive. Learn new things.
Rachel, meanwhile, sought healing by immersing herself in work.
She admonished, "Pick yourself up and do what you need to do.
"Do your work well. Talagang perform like there is no tomorrow.
"Ako, with all passion."
She said singing in front of an audience helped heal her faster.
"Kahit papaano for that forty minutes I am on stage, kahit na inside I am crying.
"Pag nakikita ko nakatawa yung mga tao, kahit papaano, yung audience, napapagaan ang loob ko."
Another heartache survivor, Venus Raj had a relationship with host Andrei Felix. When they broke up in 2013, she focused on her work and studies.
The former beauty queen is taking up her Master's Degree in Community Development at the University of the Philippines.
ADVERTISEMENT - CONTINUE READING BELOW
Karylle, meanwhile, discovered the fun of running after her breakup with Dingdong Dantes.
5. Avoid negative thoughts.
This is a must, according to Rachel, "No one can tell you you're beautiful, no one can tell you you're worth it.
"Your family can tell you, your mom or your dad will say it's okay, they'll say marami pang lalaki diyan.
"But it's just so difficult."
In a separate interview, Karylle imparted, "Naturally bad thoughts will be in your head, self-esteem mo bababa."
How did she deal with the negativities?
"I drowned myself in audio books about leadership and positivity.
"Yun yung thoughts ko kasi, you will be flooded by negative thoughts so I had a lot of [John] Maxwell," referring to the inspirational author and motivator.
Venus said "prayers" had helped her.
"Sabi nila, coping mechanism pero it's not just a mechanism. It's a thing you have to do kahit di ka brokenhearted.
"Huwag na huwag kakalimutan 'yan at never depart sa word ng Lord," she emphasized.
6. Watch horror movies.
Bianca related how she went through a phase that can only be described as crazy.
"May mga times na topak ako, nanood pa ako ng marathon ng Starting Over Again, One More Chance, She's Dating the Gangster, tatlo 'yan.
"Paduduguin ko yung puso ko," she said, making faces like she was crying.
Bianca recalled, "'Tapos mare-realize ko, anong ginagawa ko?
"Nood ako ng horror, ma-entertain ka lang."
7. Let it go.
The last piece of advice came from Benjamin Alves, "Whatever you used to do, unlearn it."
He said his prescription is especially for people who come from three- to five-year relationships.
He pointed out, "The problem is you're in a routine.
"You have to constantly pull yourself to another direction and get used to that.
"The problem with us, especially here, I know this with my guy-friends all the time, is that they say they wanna move on, but they enjoy the memories.
ADVERTISEMENT - CONTINUE READING BELOW
"You can't do that. Enjoy what's out there."



READ The Don'ts of Moving On, according to Karylle, Rachel Alejandro, Venus Raj, and Bianca Manalo