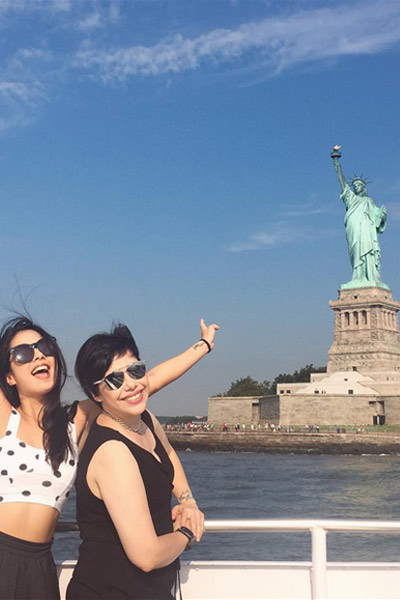 IMAGE @maxenemagalona on Instagram
---
For Pia and Maxene Magalona, there's no better place to have quality mother-daughter bonding than the U.S.A.!
StyleBible.ph didn't miss Maxene's double-tap worthy OOTDs on Instagram...
... not to mention the fun of putting her OOTD game on!
The Kapamilya star flew to U.S. with mom Pia for the TFC (The Filipino Channel) Fiesta, which was held from August 15 to 16.
Maxene joined a series of trade exhibits and business seminars, and attended an entertainment gala with fellow Kapamilya Vina Morales and Edgar Allen Guzman.
After these events, the Magalonas stayed behind and met up with family members in New Jersey.
Pia reunited with her father after 15 years.
And the mother-daughter vacay had officially begun!
THE BIG APPLE. The following week, Pia and Maxene went to New York and indulged themselves in the sights and sounds of the city.
They went shopping…
...visited art galleries...
...recreated New York scenes from TV shows and films for their photo sessions...
..and basically just had a great time together!
Cheers to happy times with the family!
View the Magalonas' NYC travel photos on Maxene's Instagram @maxenemagalona.