When Paris Hilton, Madonna, Gwyneth Paltrow, Salma Hayek, and Kim Kardashian are not wearing stilettos, one of the footwear brands they turn to is MBT.
Said to be designed "for the human movement," it's also very popular as the shoes with uneven or "rocker" soles—which make walking seem like floating.
Jodi Lancaster, the company's vice president in Australia, New Zealand, Middle East, North Africa, and the Pacific Rim, explained to PEP.ph (Philippine Entertainment Portal), "It's the built-in stability in the shoes that mimics walking on soft surfaces.
"What that does, it activates more muscles, strengthens the low limbs, and helps in circulation because your muscles are continuously moving."
For those who love to walk, it improves the posture; while those who love to run, it aids in "better conditioning and faster recovery."
WHY HOLLYWOOD STARS LOVE IT. Since it was launched in Switzerland in 1996, its website would show that it has consistently innovated not just its technology, but also its designs.
Paris's exercise shoes have long released sandal, wedge, slip-on, and slipper versions for women and men.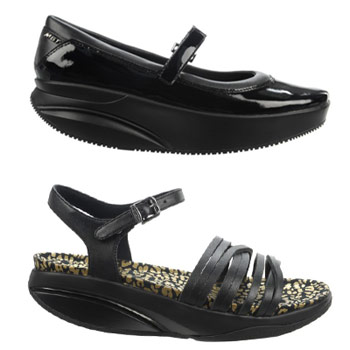 Lancaster remarked, "It can be the first thing you can wear in the morning. Then, you can wear it to work."
Madonna's "dancing shoes" (well, she wore them in some of her concerts) now has a "performance running collection."
WHAT'S IN IT FOR RUNNERS? Lancaster underlined the range's "soft cushioning," which is actually for those who are training or recovering from a marathon.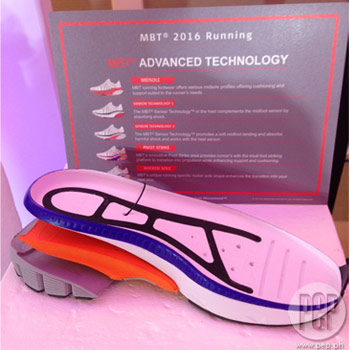 The "lightweight" pairs are for runners who are first-time users.
Lancaster said, "We recommend for the new consumer of MBT to build up.
"There are three different levels.
"Wear it for shorter periods, then, build up.
"It will help weight stability. It gives you more strength."
The "performance" pairs are for avid runners who are after efficiency and comfort.
The brand's Midfoot Sensor Technology encourages "midfoot striking" that supposedly makes you "run longer and safer plus recover faster."
Its cushioning claims to "promote soft midfoot landing and absorbs harmful shock."
On October 6, at the Shakespeare function room of Discovery Primea on Ayala Avenue in Makati, the brand's exclusive distributor in the Philippines, Stores Specialists, Inc., held a sneak peek for its Spring/ Summer 2015 collection.