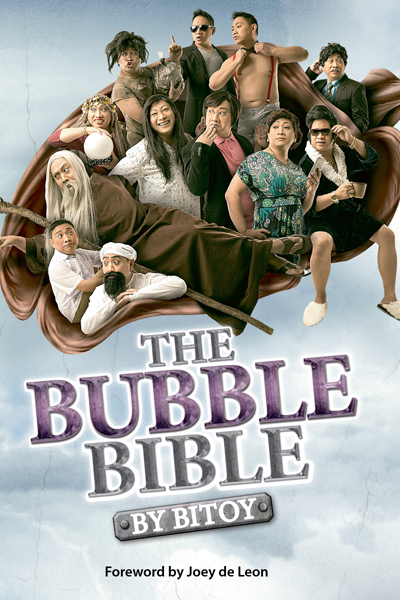 IMAGE Summit Books
---
"Thou shall finish reading this book laughing."
That is the ultimate commandment of The Bubble Bible by Bitoy, a collection of Michael V.'s 12 famous characters in the long-running GMA gag show Bubble Gang.
The collection, out soon from Summit Books, lets readers enjoy the irreverent comedy of the actor, singer, composer, rapper, and parodist over 20 decades of making Filipino audiences laugh on Bubble Gang.
Itincludes images of Michael V.'s memorable incarnations and the hilarious gags that have made them unforgettable; plus funny anecdotes from Bitoy (Michael V.'s nickname) himself.
Fans will rediscover the "tiis-ganda" secrets of Yaya Rosalinda "Cha-Cha" Lucero, the hidden tattoos of Tata Lino, the untold riches of Don Miguel De Ayalabang, the workouts Sexballs swears by, and the monologue only Cecilio Sasuman can do justice to.
Laugh out loud at other unforgettable personalities Michael V. has breathed life into, such as Junie Lee, Madam Rocha, Mr. Assimo, Mr. Matapobre, Bonggang Bonggang Bongbong, DJ Bumbay, and Doña Yna Moran.
Michael V., whose talent for drawing is well-known, also did the illustrations of the Bubble Gang characters in the book.
Veteran comedian Joey de Leon wrote the foreword.
Bubble Gang is the longest-running sketch comedy program in the Philippines, with Michael V. as its creative director and one of its pioneering cast members.
The show, which first aired on GMA Network on October 20, 1995, celebrates its 20th anniversary this month.
The book will be launched on December 6, at Glorietta 5 Atrium, and Michael V. will be there.
ADVERTISEMENT - CONTINUE READING BELOW
The Bubble Bible by Bitoy will soon be out in bookstores and magazine stands nationwide for P250.
For updates, like Summit Books on Facebook at www.facebook.com/SummitBooks and/or follow @summit.books on Instagram.
SHARE THIS STORY Michael V. launches The Bubble Bible by Bitoy; says, "Thou shall finish reading this book laughing."" data-url="https://www.pep.ph/lifestyle/32444/michael-v-launches-the-bubble-bible-by-bitoy-says-thou-shall-finish-reading-this-book-laughing" data-desc="It includes images of Michael V.'s memorable incarnations, hilarious gags, and funny anecdotes." data-image="https://contents.pep.ph/images2/writeups/b597a6d2e.jpg"> Michael V. launches The Bubble Bible by Bitoy; says, "Thou shall finish reading this book laughing."" data-url="https://www.pep.ph/lifestyle/32444/michael-v-launches-the-bubble-bible-by-bitoy-says-thou-shall-finish-reading-this-book-laughing" data-desc="It includes images of Michael V.'s memorable incarnations, hilarious gags, and funny anecdotes." data-image="https://contents.pep.ph/images2/writeups/b597a6d2e.jpg"> Michael V. launches The Bubble Bible by Bitoy; says, "Thou shall finish reading this book laughing."" data-url="https://www.pep.ph/lifestyle/32444/michael-v-launches-the-bubble-bible-by-bitoy-says-thou-shall-finish-reading-this-book-laughing" data-desc="It includes images of Michael V.'s memorable incarnations, hilarious gags, and funny anecdotes." data-image="https://contents.pep.ph/images2/writeups/b597a6d2e.jpg">
SHARE THIS STORY
Michael V. launches The Bubble Bible by Bitoy; says, "Thou shall finish reading this book laughing."" data-url="https://www.pep.ph/lifestyle/32444/michael-v-launches-the-bubble-bible-by-bitoy-says-thou-shall-finish-reading-this-book-laughing" data-desc="It includes images of Michael V.'s memorable incarnations, hilarious gags, and funny anecdotes." data-image="https://contents.pep.ph/images2/writeups/b597a6d2e.jpg"> Michael V. launches The Bubble Bible by Bitoy; says, "Thou shall finish reading this book laughing."" data-url="https://www.pep.ph/lifestyle/32444/michael-v-launches-the-bubble-bible-by-bitoy-says-thou-shall-finish-reading-this-book-laughing" data-desc="It includes images of Michael V.'s memorable incarnations, hilarious gags, and funny anecdotes." data-image="https://contents.pep.ph/images2/writeups/b597a6d2e.jpg"> Michael V. launches The Bubble Bible by Bitoy; says, "Thou shall finish reading this book laughing."" data-url="https://www.pep.ph/lifestyle/32444/michael-v-launches-the-bubble-bible-by-bitoy-says-thou-shall-finish-reading-this-book-laughing" data-desc="It includes images of Michael V.'s memorable incarnations, hilarious gags, and funny anecdotes." data-image="https://contents.pep.ph/images2/writeups/b597a6d2e.jpg"> Michael V. launches The Bubble Bible by Bitoy; says, "Thou shall finish reading this book laughing."" data-url="https://www.pep.ph/lifestyle/32444/michael-v-launches-the-bubble-bible-by-bitoy-says-thou-shall-finish-reading-this-book-laughing" data-desc="It includes images of Michael V.'s memorable incarnations, hilarious gags, and funny anecdotes." data-image="https://contents.pep.ph/images2/writeups/b597a6d2e.jpg">