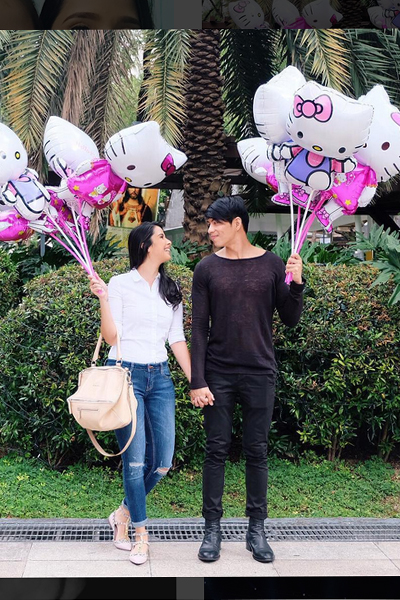 IMAGE @maxenemagalona on Instagram
---
Maxene Magalona turns 29 today, November 23.
But yesterday, she already got her birthday surprises from boyfriend Robby Mananquil.
Together with the Magalonas, Robby threw a surprise lunch treat for Maxene at Kimpura in Greenbelt 5, Makati.
And what was even sweeter about his surprise was when Robby bought Maxene's favorite Hello Kitty balloons, and proudly carried them around the mall.
Come nighttime, Robby organized a special dinner for Maxene together with her best friends Sari and Cristina in a Cerveseria, a Spanish restaurant.
Maxene was so touched.
On Instagram, she wrote, "Rob's surprise dinner last night was just perfect.
"It was nothing short of an amazing catch-up session with stories, good laughs and conversations about life and love over wine and great food with my best friends.
"Thank you, my darling! Thank you for coming, Sari and Cristina! You guys are the best."
And if you thought that was the end of it, no!
On her birthday, Maxene woke up at 5:30 in the morning to the voice of singer-songwriter Barbie Almalbis-Honasan singing "Dahilan" and Robby playing it with his guitar.
The song was dedicated by Robby to her during their first road trip few months ago.
Maxene wrote,"I thought I was still dreaming! THANK YOU ROBBY! This is definitely the best birthday EVER!
"Thank you, Ms. Barbie! To be able to listen to your beautiful music and sweet voice first thing in the morning was just magical!
"My dearest Rob, thank you for learning the chords to the song and playing it for me this morning.
ADVERTISEMENT - CONTINUE READING BELOW
"Thank you for giving me the gift of music on my birthday! Thank you for sharing your talent with me always, everyday.
"You are the music in my life. I love you."