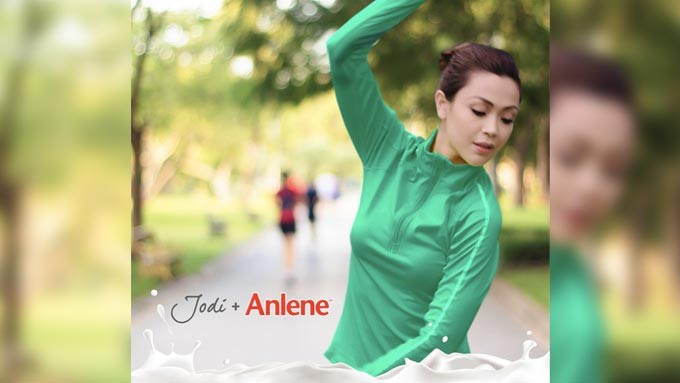 ---
ADVERTORIAL
Her son's college graduation is still several years away, but as early as now, Jodi Sta. Maria already has her eyes on making it to the event looking as timeless as ever.
She gamely explains, "I want to be there as in healthy—gusto ko na nandoon ako, na when I walk with him, people would say, 'Uy, kapatid mo.'
"Ayaw naman natin sabihin na mommy ka pero, 'Kasama mo lola mo?'"
But to achieve that, the Kapamilya actress says it's "important na alagaan natin sarili natin."
While her son Thirdy is her primary priority, Jodi believes moms like her should not forget to take care of themselves—especially if they want to witness and take part in their children's milestones in life.
"Me naman kasi, number one na pinaka importante sa akin is health. It may sound like a cliché but health is wealth," Jodi shares.
"Nutrition is very important—having a balanced diet that includes drinking the right milk. Exercise is very important."
ADJUSTMENTS. Jodi, however, admits there came a time in her life when she was too focused on Thirdy and her work—that she forgot about her needs.
She says, "Even if mothers na tayo, di dapat natin kalimutan yung sarili natin. Kailangan alagaan rin natin yung physical, emotional, and our mental health. Kahit sa mga bagay na yun, we still have to strike a perfect balance, para as a person we are whole."
With that mindset in place, Jodi took on a paradigm shift when it came to how she saw her health and nutrition.
ADVERTISEMENT - CONTINUE READING BELOW
"I adjusted my eating habits. It's because I want to influence him also to eat healthy. Importante sa akin yung balanced diet, so I stay away from junk foods. Kung ano yung kinakain ko, Thirdy sees it."
Among the changes in her diet were taking out certain types of meat and eating mainly fruits, vegetables, and fish.
She explains, her diet now helps her gain energy for her playtime with Thirdy, "Mas kaya kong sabayan yung anak ko ngayon. When it comes to activities, I don't easily get tired anymore."
ACTIVE LIFESTYLE. Juggling her tasks of raising a nine-year-old and keeping up with her showbiz schedule is no easy feat—but Jodi says she is up to it.
The trick is to be active and mobile, which the actress says requires you to have strong bones. And for Jodi, she gets her calcium fix and right vitamin D levels from Anlene.
"Right now I have never been healthier. I made some adjustments in my lifestyle especially with what I put inside my body. I feel stronger, I feel healthier, and at the same time I feel lighter."
She adds, "Even if we're mothers na, drinking the right milk—I believe it's for all ages. We all have bones and kailangan maging nourished yung bones natin. A glass would supply our bones with the calcium and vitamins we need."
JODI'S SECRET. Apart from her diet, what else is Jodi's secret in being physically fit?
"To be very honest, I don't have time to go to the gym, pero I still find ways to keep my body fit. Yung mga 20 minutes na ikot ikot, or akyat panaog ka ng hagdan—it's better than doing nothing!"
ADVERTISEMENT - CONTINUE READING BELOW
For her, there's no excuse not to move.
Her word of advice: if you don't have time to go to the gym because of your busy schedule, "then just have every day 20 minutes of walking."
And if you can't find a place to do that? Jodi urges you to "just go around your sala or kung mayroon kang hagdan, just go up and down."
You don't like walking? "E, di magwalis ka, magbunot ka, exercise pa rin yun!"
The best thing about moving, Jodi says, is that "it will not only strengthen your muscles and bones, [but] your heart na rin."