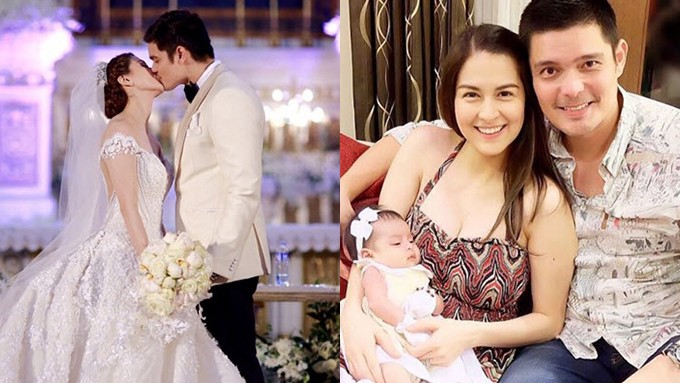 ---
A year later, Dingdong Dantes and Marian Rivera have topped their grand wedding with the birth of their little angel, Maria Letizia.
They have gone a long way and what a fruitful first year they have had as husband and wife.
Here is a look back on the first year of their marriage.
WHEN IN ROME. Off the bat, the newlyweds kicked off their year with a honeymoon in Italy.
They also made a trip to the Vatican City, where they attended a mass officiated by the Pope himself.
Before going back to Manila, Marian visited Spain to meet the rest of her dad's family.
Come Easter, the couple went to Nami Island in South Korea.
MARIAN GOES TO CULINARY SCHOOL. Prior to this, she had been cooking dishes for Dingdong.
But she wanted to be good at it so she got some help from Heny Sison.
MAN FOR OTHERS. As Marian appeared on TV mostly as a guest, Dingdong got his first teleserye role after their wedding.
ADVERTISEMENT - CONTINUE READING BELOW
He starred in the faith-serye Pari Koy which premiered on March 9, 2015.

During the latter part of the year, Dingdong became busier as a philanthropist as he made more projects for YESPinoy foundation, launched the climate change campaign #NowPH, and became the delegate of the National Youth Commission at the Climate Vulnerable Forum in Paris, France.
GOOD VIBES April marked the announcement of Marian's pregnancy and from then on, everyone anticipated the arrival of the first Dantes baby.
Marian had to let go of The Rich Man's Daughter project to make sure she and the baby will be stress-free during her pregnancy.
She only had one show, the Sunday afternoon show Sunday Pinasaya, but a lot of endorsements.
But even if Marian laid low this year, she kept her fans updated via Instagram.
The lady fully embraced the changes that went with her pregnancy, and quickly became the ultimate preggy goal of every mom-to-be.
ADVERTISEMENT - CONTINUE READING BELOW
The Kapuso Primetime Queen graced the cover of Esquire, where she flaunted her fabulous preggy figure.
On September 26, the couple announced the name of their baby.
ISLAND GETAWAYS During special occasions, Dingdong and Marian would escape the hustle and bustle of the city and wander off to a far-off place.
On Valentine's Day, they spent their first island getaway as husband and wife in Palawan.
Then on Marian's 31st birthday last August, Dingdong brought his wife back to Amanpulo, their "happy" place.
Six years ago, this was where they had their first island date. Six year later, this was where Marian first showed her beautiful baby bump.
ROYAL FAMILY. November 23 marked the newest chapter of their married life: becoming parents.
Dingdong posted the small hand of Maria Letizia or Baby Zia with a sweet message.
He captioned: "Twenty-three November, 2015: The day God decided to deliver His most precious gift.
ADVERTISEMENT - CONTINUE READING BELOW
"This morning, I witnessed a miracle. And during that moment, I realized that my life would never be the same again.
"As we welcomed this new graceful chapter with open hearts, we thank everyone who prayed with us through this sweet journey.
"Friends, say hello to our Maria Letizia."
On December 3, both of them posted the first photo of Baby Zia.
Here's to more years for Dingdong and Marian!