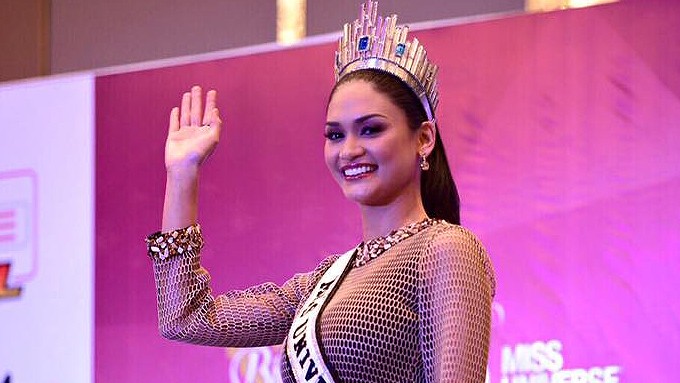 ---
"This is the happily ever after I've been dreaming of for a lifetime."
Pia Wurtzbach was holding back her tears when she said these words at the grand press conference held on January 24, at Novotel Manila, Araneta Center, Cubao, Quezon City.
And she's anticipating that today, January 25, at her homecoming parade, she will shed more tears.
"I hear that it's usually in the parade where things can be a little emotional and the thing starts sinking in.
"I'm excited to see the parade, to be at the parade...
"This will be my first time to see the Filipino people up close and personal, finally, with the crown.
"I'm actually excited for that. I can't wait."
OVERCOMING THE COMPETITION. When asked about her first month as the titleholder, she said, "I've actually adjusted quite well… I think.
"I have to be careful now of what I look like and what I say, but I won't let it get to me that much.
"I still wanna be myself."
When asked whether becoming Miss Universe is more difficult than competing for the title, Pia admitted that the latter was the tougher challenge.
"I don't have to work everyday or, like, put up a front everyday as I'm reigning.
"So that's not exhausting at all.
"But when you're put in a pageant, and you have to put your best foot forward, and be the best representative of your country,
"There's so many to consider like what am I going to wear...what's the formula of the blocking, where do I pose, how did I do in the preliminaries, how well will I do in the Q & A, and the how well am I doing with the other girls?"
She also had to think about the other candidates.
ADVERTISEMENT - CONTINUE READING BELOW
She resumed, "What's my relationship with the other girls? With the organization? Am I someone who they would want to work with for a whole year?
"These are the things going through my mind every day when you're in the competition."
But now, as the reigning queen, her concerns had been reduced and become more specified.
"Now, all I'm thinking about now is, okay, this is my plan, these are the things I wanna do during my reign.
"I'm being more of myself now."
READY TO CONQUER. With a strong desire to start change as Miss Universe 2015, Pia has prepared herself for the amount of work she had to accomplish.
And instead of getting overwhelmed by her hectic schedule, she said, "I'm excited.
"This is what I've been wanting. I have no right to complain.
"Come on, I've been wanting to win for years. I accept whatever is thrown at me."